Paediatric Asthma on Rise: China Tops the list Followed by India
Choking their childhood
Asthma is now considered to be the most common chronic disease among children worldwide. The economic costs associated with asthma exceed those of Tuberculosis (TB) and HIV/AIDS combined.
It occurs when inflammation causes the airways to narrow, prompting breathlessness and wheezing. World Health Organization (WHO) puts an estimated 235 million people, including adults, worldwide, WHO says. Children — whose airways are much smaller than those of adults — are especially vulnerable.
According to a new study, vehicular pollution is adding to the asthma burden all around the world. The Lancet study, released this month, suggests that there are 170 new cases of traffic pollution-related asthma per 100,000 children every year; and 13 percent of childhood asthma cases diagnosed each year are linked to traffic-related pollution.
The study analyzed 194 countries and 125 major cities worldwide. It says that more than one in 10 childhood asthma cases could be linked to traffic-related air pollution every year. India has an estimated 1.5-2 crore asthma patients, out of which 3,50,000 are children.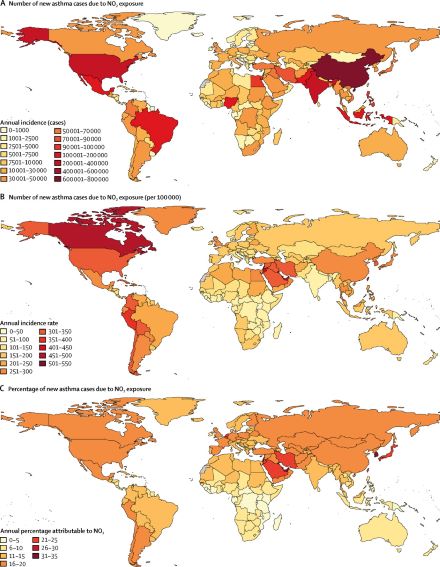 The researchers used Nitrogen Dioxide (NO2) as a substitute for the traffic pollution mixture to focus specifically on the effects of traffic pollution on childhood asthma development.
NO2 is a pollutant formed mainly from fossil fuel combustion. Traffic-related emissions can contribute up to 80 percent of ambient NO2 in cities. NO2 is just one component made up of many pollutants, including ozone and carbon monoxide — which are known to have numerous adverse effects on health.
China accounted for the largest number of cases of traffic pollution-related asthma — 7,60,000 cases — followed by India, US, Indonesia and Brazil.
Read: Is China Getting a Free Pass for Climate Emissions?
With 92 percent of cases developing in areas that have traffic pollution levels below the WHO-mandated levels, the study suggests that this limit needs to be reviewed.
Lead author, Ploy Achakulwisut from George Washington University hopes that this study can bring in major policy changes related to air pollution, which can lead to improvements in children's health and also reduce the emission of greenhouse gases.
Air pollution has been discussed at lengths all across the world. Global institutes like the WHO had earlier declared that outdoor air pollution is group 1 carcinogen and that it is "carcinogenic to humans". Outdoor air pollution is already in the same bracket as other deadly cancer-causing substances, including tobacco, asbestos and ultraviolet radiation. In fact, air quality data from the Central Pollution Control Board and evidence from health studies carried out in Indian cities also support this global evaluation. Analysis of the data reported for selected cities shows that the highest number of lung cancer occurs in Delhi, followed by Mumbai and Kolkata. National Cancer Research Institute, Kolkata, which has done extensive clinical studies across cities of India conclude that there is more cancer incidence among the younger population.
Identifying these hotspots is one thing. Doing something about them is another. Researchers of the Lancet study say that policymakers should promote electric vehicles, improve public transit, and expand bike lines and running trails. Doing so would reduce air pollution, enhance physical fitness for everyone and, most importantly, improve children's health.
(Visited 427 times, 1 visits today)