China's CO2 Emissions Rise for the First Time Since 2014
China's carbon dioxide emissions grew by more than 3 % in 2018, the largest rise since 2014 shows national data
According to China's latest statistical communique, its CO2 emissions rose approximately 3%. The document however added that the country will push emissions down in coming years.
China's CO2 emissions fell from 2013 to 2016 due to a shift away from smokestack industries and construction as economic drivers, booming power generation from renewable energy and policies to tackle air pollution.
Reduction in CO2 emissions from China, the US and the UK were the primary reasons that global emissions growth stopped over this period. China is aiming to cap its carbon emissions by around 2030.
However, in 2016 the Chinese government kick-started another construction boom that has seen demand for steel and other construction materials surge, driving up coal use and emissions in China and pushing global emissions back to growth.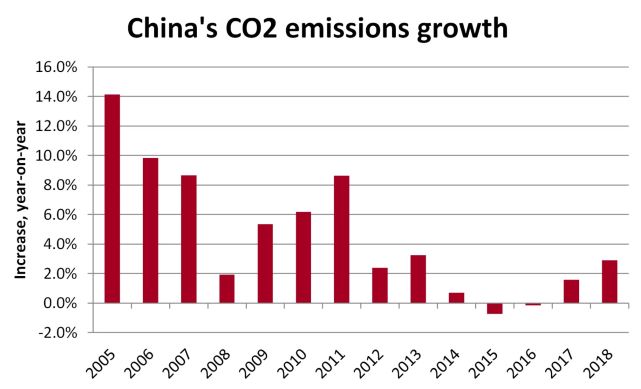 The bureau did not provide tonnage figures for the different energy categories but said China's total energy consumption rose by 3.3 percent year-on-year to 4.64 billion tonnes of standard coal equivalent last year. Carbon dioxide emissions per 10,000 yuan ($1,497) worth of GDP, meanwhile, fell by 4 percent last year, the bureau said.
If we look at the report, there is major uncertainty around China's coal use numbers, the figures show a small increase in coal imports in both years.
"There is a lot of uncertainty over how much coal use actually grew: reported coal production increased by 8% from 2016 to 2018, and thermal power generation increased 12%, yet reported coal use only increased by 1.4%. Other sectors have reduced coal use but hardly this much," Lauri Myllyvirta, an analyst at environmental group Greenpeace, said in a note.
Output of coal-fired power and metals, the largest users of coal, increased significantly. Yet the increase in total coal use was reported at only 1% in 2018 and 0.4% in 2017. It's likely that coal use fell more than reported until 2016 and subsequently has increased more than reported in the past two years.
However, one thing is for sure, China is crucial for global climate efforts, as well as China's war on air pollution at home. Coal accounted for about 59 percent of China's overall energy consumption last year, down 1.4 percentage points from 2017, as China boosts the use of cleaner fuels such as natural gas and renewable energy.
That brings the world's biggest emitter of greenhouse gases closer to its target of reducing the proportion of coal in its energy mix to below 58 percent of total energy consumption by 2020.
The share of gas, nuclear power and renewable energy sources combined increased by 1.3 percentage points to 22.1 percent of the total in 2018, the bureau said.
After all is said and done, its important to note that future increase in CO2 emissions in China will depend on several things, like whether the Chinese government responds to its economic miseries by injecting another round of stimulus to highly polluting industries or it decides to push for economic transformation, moderating energy demand growth; Also there is a race whether clean energy deployments will match to meet overall energy demand growth or whether China's war against air pollution will be able to get back on track.
(Visited 806 times, 2 visits today)