The Big News, and Moves of 2018 for Sustainability
We look back at all that was big and relevant, month wise, in 2018. And realise that much was achieved, though much more remains to be done too. Here's wishing a year full of pleasant surprises for you !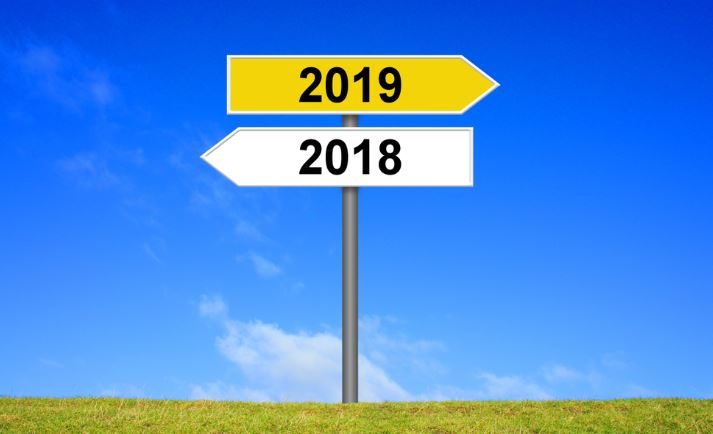 2018, not bad. 2019, will you beat that?
JANUARY
In 2018, China, the biggest market in the world for recyclables, closed its doors to much of the paper and plastic we throw in our blue bins. To protect its citizens from the burden of foreign pollution, in the beginning of this year, China refused to be the world's dumping ground and effectively closed its doors to plastic waste imports.
China's new National Sword policy of refusing foreign waste has brought a long-overdue moment of reckoning for the recycling industry, and by proxy, for manufacturers.
A January 2018 report found the volume of plastic in the ocean will exceed that of fish by 2050, and a United Nations Environment Program reported that even plastics marked as biodegradable do not degrade rapidly in the ocean. Additionally, there are recent scientific reports that marine plastic accumulates toxins, while biofouling with algae also makes it attractive to fish. This new awareness of the scale of the plastics issue was to lead to much bigger moves later in the year, such as the EU's ban on single use plastics, and much more.
FEBRUARY
Plastic pollution was the big issue of early 2018, with policymakers and businesses introducing a range of sweeping commitments. Groups such as the Marine Conservation Society, Friends of the Earth, Greenpeace and WWF have called on the UK Government to take "radical and decisive action" on single-use plastics.
Despite 71.4% of UK packaging waste being recycled, the amount sent to landfill has increased by an extra 446,000 tonnes since 2013 – a 15% increase.
The 2018 edition of the World Sustainable Development Summit of TERI was held in New Delhi from February 15 to 17. It was inaugurated by PM Narendra Modi at Vigyan Bhawan.
The summit witnessed discussions on the issues related to sustainable transport, resilient cities, solar energy, carbon markets and pricing, refrigerant technologies etc. It also addressed issues like combating air pollution, coming up with measures for energy efficiency, increasing resources, transition to clean energy and also creating a financial mechanism to enable effective climate change mitigation.
MARCH
India's Ministry of New and Renewable Energy (MNRE) announced plans to install four to five 6MW offshore wind turbines at Arichamunai in the state of Tamil Nadu, at Arichamunai near Dhanushkodi at an estimated investment of ₹300 crore, according to Bhanu Pratap Yadav, Joint Secretary, MNRE. These would be the first large offshore turbines in the country, marking a new direction in Wind Energy.
In the world's largest solar park, the first 600MW phase at the Pavagada Solar Power Park was officially inaugurated this month.
APRIL
When Maharashtra declared its intention to ban the use of disposable plastics in April, there was one question that was on top of everybody's mind – will this be effective? The state has been a frontrunner in the adoption of the plastic ban and electric mobility( which came later in the same year) paving way for other states to put money where the mouth is. The solar sector saw its biggest acquisition – Renew power had put on a tag of the 'biggest player' after buying Ostro  and its 1100 plus MW capacity for 10,800 crores.
On the financing front, Bloomberg NEF released a report —Together, the "big three" developing economies, China, India, and Brazil, accounted for a record 63% of global investment in renewable energy in 2017, noted the report (p.20). Developing countries first surpassed developed country investment in renewables in 2015, but fell back in 2016. But for the first time after 2016, the figures showed for every $1 the US put into adding renewable energy last year, China put in $3.
MAY
The summer month was riddled with good and bad news. Domestically, Shimla was in throes of an acute water crisis , prompting its residents to ask tourists to stay away.  The Himachal Pradesh capital ran out of water at the peak of its tourist season, ringing warning  bells all across the country about the impending water crisis. A crisis that the Niti Aayog predicted could be here as early as 2020.  The court also passed an order to stop all construction activities in core areas of Shimla to save water. World Health Organisation or WHO made a shocking revelation that 14 out of the 15 most polluted cities in the world have their home in India.
The National Energy Storage Mission started to take shape while down south the Cochin International Airport, which has had a solar plant since 2015 powering most of it, finally got its 100% green endorsement. Formal recognition finally came this month with the United Nations Environment Programme recognising the Cochin International Airport Ltd (CIAL) as the world's first fully solar energy-powered airport.
JUNE
Pollution took center stage in he capital  New Delhi in June when the Massive Earth Summit took place in Delhi . Global experts  and technocrats discussed a whole lot of challenges and the solutions being used to tackle environmental issues. According to CPCB, Delhi-NCR witnessed a sudden spurt in air pollution in June 13, with average PM 10 levels going over 800 on many days, over four times the average air pollution recorded that month. Delhites took to the streets though peacefully to save more than 16000 trees on the line for a redevelopment project. Struggling with a sudden surge in pollution, due to dust storms and vehicle density, High Court supported people's plea to stop the felling of trees.
JULY
July saw two of the biggest updates from the Indian solar sector. First, when solar tariffs reached an all-time low in SECI's 2 GW auction. ACME Solar won 600 MW of the tender capacity with its ₹2.44/kWh bid, matching the lowest ever bid recorded in an auction. Two weeks later, the firm bagged another tender with the same bid amount. The other big update was when the Department of Revenue officially notified a 25 percent safeguard duty on imported solar panels from China and Malaysia. The safeguard duty was to roil planning and calculations for a lot of players in the sector. 
In another sector, Essel Infraprojects announced that it plans to invest close to ₹1,750 crores to develop an electric vehicle charging and battery swapping infrastructure in Uttar Pradesh.
AUGUST
August saw Kerala struggle with once in a century rains and the consequent floods which brought the entire state into a standstill. And while a lot of the blame was passed around, the entire nation came together in support of the state when it needed most. The first batch of auctioned ISTS-connected wind energy projects was also commissioned in this month after Ostro Kutch Wind successfully commissioned a partial capacity of 126 MW, for their projects in Bhuj, Gujarat.
Spicejet tested the country's first biofuel-powered flight using a mix of the oil extracted from the seeds of Jatropha plant and aviation turbine fuel. And as the world hit the 1 million MW mark (1 TW)for renewables, poor response forced SECI to begin a new  trend of tender extensions and cancellations with its 2 GW wind tender.
SEPTEMBER
In September, accelerating a shift that was already underway, California approved its SB100 bill mandating that all electricity come from renewable sources like wind, solar and other clean-energy alternatives like geothermal by 2045, marking what is the 5th biggest economy in the world's biggest step yet in the fight against global warming. Possibly the biggest commitment made by a large economy to shift to renewables.
In a bid to lower its carbon emissions, Germany rolled out the world's first train that runs on hydrogen power, equipped with fuel cells that produce electricity through a chemical reaction involving hydrogen molecules. Fitted with batteries it emits only steam and water droplets.
OCTOBER
The month began with the REInvest 2018 expo that was held in Delhi. The 3-day event began with the first council meeting of the International Solar Alliance and organised multiple discussions along with an expo of the leading renewable solutions providers. A week later, the IPCC placed its latest report in public with the warning that climate change is building momentum, and it could be too late to reverse it very soon. A point beyond which, if urgent action is not taken and works to limit global warming to 1.5 degrees, we might even cross the point of no return for significant swathes of the earth.
The other big update from the month was when the European Union banned the use of single-use plastics covering plastic products like single-use cutlery, cotton buds, straws, stirrers, and other everyday items, has made provisions to target other key marine pollutants like fishing gear, cigarette filters etc.
NOVEMBER
A study by BloombergNEF revealed that renewable capacity additions over the last year were more than fossil fuel generation in developing countries for the first time. The report also revealed that Chile replaced China (7th) as the top scorer of the survey because of its strong government policies, a track record of clean energy investment and a commitment to decarbonisation despite grid constraints. India finished a close second, up from fifth the previous year, thanks to its ambitious clean energy policies and competitive renewable auctions. And in a vital boost for the auto and tech industry, explorers in the West African nation of Mali have discovered a minimum of 649,000 tonnes of potential lithium reserves.
DECEMBER
Billed as the next big step after the Paris Agreement of 2015, the Katowice COP 24 meet underlined the importance of keeping discussions going. Unfortunately, that's about all it achieved. And while the two-week event was going on, India jumped three spots to 11th (8th) in the Climate Change Performance Index for 2018 issued by GermanWatch and the New Climate Institute and was lauded for its performance in RE  and low per capita emissions and ambitious targets for 2030.
And finally, the European Union made official its highly contested deal to cut CO2 emissions from new cars by 37.5% by 2030. The union believes that the steep cut will force the hand of automakers to transition more aggressively into electric vehicles for the European market.
(Visited 88 times, 1 visits today)