Renewables and Storage Solutions for India. REInvest 2018.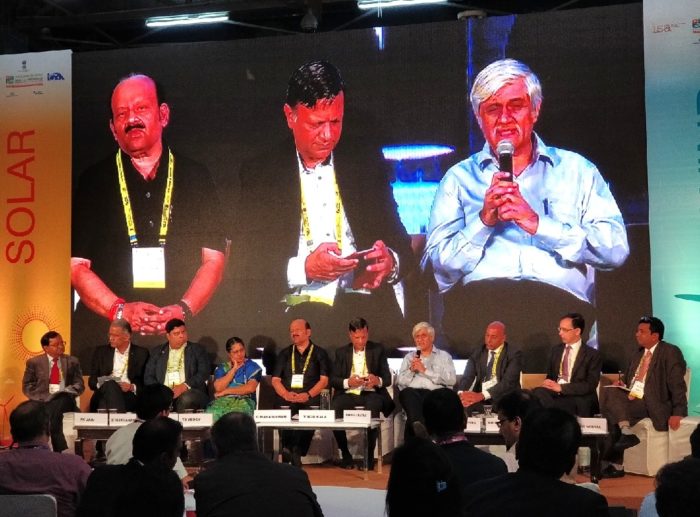 At the ongoing REInvest Expo and Meet, the discussion on India's energy storage demands threw up some eye popping figures on the future storage demand in the country
As the world transitions towards renewable energy and electric mobility,  availability of energy storage systems that are cheap, efficient, reliable, flexible and capable of rapid power absorption and delivery are essential for higher penetration of renewables and EVs. That is the obvious case for storage. What is perhaps not so obvious is just how critical, and profound, the impact of storage, especially a tech breakthrough that enables higher storage efficiency, could have on the global fight against climate change.
Highlighting the renewables conundrum, Pankaj Batra, Chairperson, Central Electricity Authority, said, "Electricity in India is governed by economics, i.e. we're always looking to find the cheapest source of energy and electricity."  "Solar after considering all factors comes at around Rs 3.50 per unit to the end consumer, which as you may very well know is less than coal based power." But what will deliver this 'efficient' reneable power to consumers at scale is, helping sustain the sector as well as the world is storage.
 "Considering only the economical factors, India will need 110 GWh of storage solutions by 2030," Batra said. "We tried to have solar projects built with storage solutions right in the plant, but we're not going to push that move as a policy just yet. I feel and believe that there is a scope for storage and the demand will increase naturally, I don't think it needs to be mandated as a policy to create the demand." one more way of saying, storage needs to get a lot more cheaper and efficient before policy makers lavish incentives and subsidies its way.
Numerous technology options exist today for energy storage, each with its own set of opportunities and challenges. Cumulus Energy Storage, known for its breakthrough Copper/Zinc battery storage technology claims that their batteries provide the lowest LCOS (Levelised Cost of Storage) in the market for big plants. Nicolas Kitchin, CEO and Founder of Cumulus said, "We expect the raw material prices for our batteries to match or even better that of Lithium Ion batteries by 2020, coming in at just $ 70/ KWh. And the way forward for renewables remains in Hybrid generation coupled with hybrid storage, that's how the market will grow.
A K Jain, MD, Rajasthan Electronics & Instruments Limited said, "Storage is going to provide a bigger opportunity than renewables in my opinion. We should look at providing nearly 15-20% of our renewable projects with storage solutions."
Recently, we reported that in order to tackle one of the biggest issues impacting the renewable energy sector in India, the Minister of state for Power Raj Kumar Singh apprised the Lok Sabha that a draft of National energy storage mission (NESM) has been proposed.
"The committee has proposed a draft NESM with the objective to strive for leadership in energy storage sector by creating an enabling policy and regulatory framework that encourages manufacturing, deployment, innovation and further cost reduction," Singh said at the time.
Globally, the one big storage success story comes from Tesla's "Big Battery" in South Australia. In August, lighting strikes in Australia temporarily interrupted transmission lines that interconnect the electrical grids in the eastern part of the country, calling for a power system emergency. Customers in New South Wales and Victoria experienced widespread power outages while those in in Queensland and South Australia noticed little more than a momentary flicker of their lights. Queensland benefited from the abundance of renewable energy in the state, while South Australia was largely unaffected, thanks to the Hornsdale Power Reserve, a.k.a "Tesla Big Battery." It kicked in immediately to add 84 MW of power to the state's electrical grid and stabilize the frequency of the local grid, which was disturbed when the link to neighboring Victoria was disrupted.
The storage facility which draws its energy from the neighbouring wind farms, has supposedly reduced the price of expensive power outages which were earlier balanced using coal based energy by nearly 90 percent. Leading to a massive drop in the costs of backing up the region's power supply, potentially saving local people millions of dollars.
While the panel briefly talked about the batteries needed in electric vehicles, majority of the discussion was held around storage solutions for renewable projects and balancing of the grid, which at present seems like a thing of the future in India. However not so far-fetched if its taken away from the hands of government after the clearances and handled by a private firm. "Instead of installing a battery system at each and every solar plant, we need to start looking at installation of battery systems in the grid, to ultimately balance the entire grid network," Mr Batra said while closing the discussion.
With a measure signed by Governor Jerry Brown, California has moved a another step towards realising its sustainability and renewables target by introducing additional funding to support innovation in storage. Something that should perhaps pique the interest of state governments or for that matter the central government, as it quickly moves to realise that renewables without storage is not feasible.
(Visited 34 times, 1 visits today)