Take off! SpiceJet Tests India's First Biofuel-Powered Flight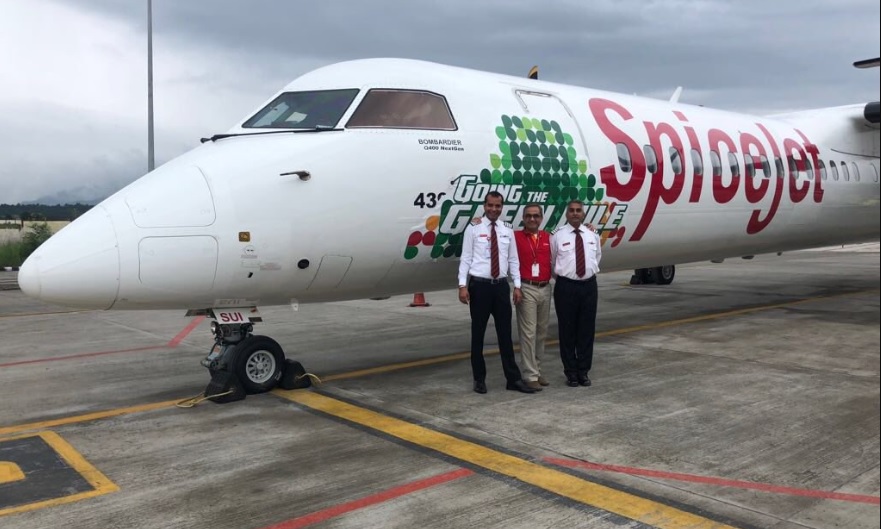 In a bid to tackle the crippling aviation fuel prices, SpiceJet experiments with Biofuels.
Today, August 27 can safely be marked as a special day in the push for biofuels in India. Low-cost commercial airliner SpiceJet tested its first ever biofuel based flight today. With this,  Spicejet has become the first Indian airline to use biofuel for a demonstration flight, in a bid to tackle the crippling aviation fuel prices. The airline operated a turboprop Q-400 from Dehradun to Delhi using a blend of sustainable alternative fuel.
Instead of the regular aviation turbine fuel, the 72-seater SpiceJet aircraft will be powered by a blended fuel, made partially from renewable resources such as agricultural residues, non-edible oils and bio-degradable fractions of industrial and municipal wastes. The composition of the fuel was a mix of the oil extracted from the seeds of Jatropha plant and aviation turbine fuel. It was reported that five hundred farmer families in Chhattisgarh are involved in the production of the partially-refined biofuel used in today's flight.
The fuel has been developed by the Indian Institute of Petroleum, Dehradun. The made-in-India alternative fuel acquired all statutory clearances, including those from designated testing labs and the Directorate General of Civil Aviation (DGCA).
Uttarakhand Chief Minister Trivendra Singh Rawat waved off the 72-seater Bombardier Q400 turboprop aircraft from Dehradun's Jolly Grant airport. The demonstration flight used a 25 percent biofuel mix in one of the engines while the other ran on aviation fuel. SpiceJet expects the engine with the blended fuel to perform at a greater efficiency.
If the test is a success, India will become one of the first developing nations in the world to have flights operating on alternative fuel, and join a very exclusive club of the US and Australia who have had biofuel-operated commercial aircraft. However, it is worth noting that the first ever flight operated on fuel blended with biofuels was back in 2008, when Virgin Atlantic flew their jumbo jet from London to Amsterdam.  The move turned out to be  unsustainable due to the difficulties of procuring biofuels at the time.
In May, the Union Cabinet cleared the national biofuels policy, reducing dependence on imports for energy security and the enormous economic burden on the country's finances as it became the largest importer of fuels. The push for biofuels is being done to combat the growing import burden primarily, besides a push to domestic manufacturers of course.
The free import of biofuels will now be allowed only for non-fuel purposes as the Indian government, through an amendment in the import policy, recently imposed restrictions on biofuel imports. The government, earlier this month, reiterated its plans to invest Rs 10,000 crore to build 12 biofuel refineries in the next four years, which will help it save Rs 12,000 crore of import bills.
(Read our story – MNRE Invites EoI to Study Biomass Potential)
Image credits: AVM Amit Taneja
(Visited 629 times, 2 visits today)