The Water question the solar industry is ignoring at its own peril
Bridge to India's "Water Use in Solar Power Sector" report deems the Indian solar sector all but helpless in the face of a severe water risk.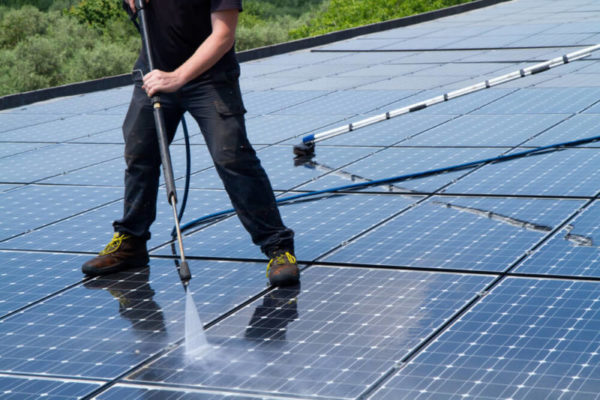 According to a new report from consultancy firm Bridge to India, the rapidly growing solar sector in India could soon be left defenseless to chronic water shortage, with nearly 94% of installed solar capacity in the country currently in water-stressed areas.  It's a factwe had also highlighted in our story on the top 10 solar parks yesterday, as solar parks due to their vast land requirements, be default end up being set up in barren or degraded lands.  In turn caused by lack of water or scanty rainfall.
The "Water Use in Solar Power Sector" report reaffirmed that cleaning and maintenance of PV modules is critical to the operation of any solar plant. As, with accumulation of dust, dirt, pollution, bird-droppings amongst many other hindrances, the performance of the modules suffers, on an average a  3-6% drop in power generation, according to the report.
The report highlights the significance of water in cleaning of the modules. In India, over the last three years the cost of water has doubled in most parts of the country and any further increase in the prices is expected to bear a "substantial impact" on the operational budgets of plants according to the report. Sourcing nearly 60% of the water for cleaning of modules from bore-wells, which are tapping up the country's dwindling ground water resources and the remaining 40% from surface water sources, such as rivers, canals and lakes. The source of water is expected to significantly affect the water costs in the very near future, and if left unsupervised could further harm both the plants and the water resources.
The water risk could blow out to become a massive economic burden on the plant developers who are often contracted with operation and maintenance. A burden, that might creep its way into bids for solar projects, driving up tariff rates in the country. While most developers are currently keen on pushing the government to manage the water burden. A cursory glance at the websites of some of the few top solar developers revealed that barring a few, most of them were not involved in any form of CSR activity in the water domain, let alone doing something to help fight the water problem. These companies should be involved in activities in and around their solar plants, to help sustain the environment along with the water levels. Renew Power, has an active CSR team and have been doing their bit for the environment including their 'Community-based water management' program which provides public access to clean drinking water in schools and public places around all of its project locations. Similarly, Adani Energy seemed to be the only other major focused on using technology to solve the water issue.
Besides, Bridge to India also noted that certain technologies are available that can reduce the necessity of water use, such as robotic cleaning and anti-soiling coating. Robotic cleaning is currently being offered by Israel-based firm Ecoppia, at two of India's largest solar plants in Bhadla Solar Park, Rajasthan and Rewa Solar Park, Madhya Pradesh. Cloud-based and water-free, the automated robotic systems remove dust from solar panels on a daily basis using advanced machine learning and IOT capabilities. While the cost impact of using a solution such as Eccopia's is not available right now, we will update it as soon as we receive word.
The report covers areas such as variability of water use across projects in India, estimated consumption by state, costs of using surface water sources versus groundwater sources, as well as the technologies available to reduce water consumption. Around 3GW of power plants are currently considering various types of robotic solutions in India.
An industry expert from one of the leading solar solutions firm mentioned that, per module, manual cleaning with water is considerably cheaper than a robotic system that comes in at Rs 10 Lakhs-20 Lakhs (Ecoppia Systems). But, when considered over 100 MW or greater project that consist of millions of modules, the robotic cleaning systems become a much more feasible option and ensure a much higher efficiency and thus, overall plant performance.
Vinay Rustagi, managing director, Bridge to India, said: "India's solar sector is growing rapidly – total installed capacity has risen from just 1GW in 2012 to over 25GW at present and is expected to go up by over 50GW in the next five years. Rapid growth and concentration in water-stressed areas exposes solar projects to a growing water risk – scarcity, rising cost, conflict with other social and economic uses and environmental degradation."
Bridge to India noted the irony that solar is often promoted for its efficiency in water usage compared to thermal power plants that require huge ponds of water to operate, but the locations of solar plants in India are not conducive to a plentiful water supply. It is imperative that policymakers, project developers and investors start to adopt suitable mitigation technologies and bring more attention to the water usage situation.
(Visited 414 times, 1 visits today)