EDP & Engie Join Hands To Create Global Wind Energy Giant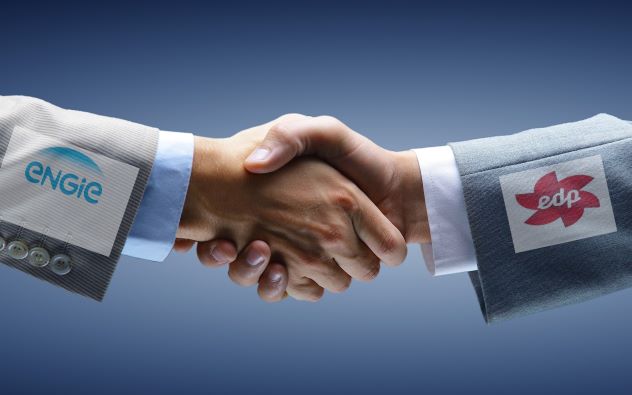 Two Giants join for a joint wind entity
Engie and EDP have signed a strategic Memorandum of Understanding (MoU) to create a co-controlled 50/50 joint-venture (JV) in fixed and floating offshore wind.
French energy group Engie and Portugal's EDP will pool their offshore wind resources in a new joint venture that aims to be one of the top 5 global leaders in the wind energy, the two companies announced jointly on Tuesday.
The new entity will be the exclusive vehicle of investment of EDP, through its subsidiary EDP Renewables (EDPR), and Engie for offshore wind opportunities worldwide.
Under the terms of the MoU, EDP and ENGIE, will combine their offshore wind assets and project pipeline in the newly-created JV, starting with a total of 1.5GW under construction and 4GW under development, with the target of reaching 5GW to 7GW of projects in operation or construction and 5GW to 10GW under advanced development by 2025.
Isabelle Kocher, Engie CEO, said: "We are delighted to announce this strategic alliance in offshore wind with EDP that we have been partnering with since 2013. The offshore wind sector is set to grow very significantly by 2030. The creation of this JV will enable us to seize market opportunities while increasing our competitiveness on one of our key growth drivers, renewables. This agreement is also fully aligned with ENGIE's zero-carbon transition strategy."
The JV will primarily target markets in Europe, the United States and selected geographies in Asia, where most of the growth is expected to come from. The JV's ambition is to be self-financed and the projects that will be developed will respect the investment criteria of both companies.
"This agreement for wind offshore represents an important step in EDP's renewables strategy. We are fully committed with the energy transition and a more sustainable future, as per the ambitious goals communicated in our strategic update. We are confident that this partnership will reinforce our distinctive position in renewables allowing us to accelerate our path in offshore wind, one of the key growth markets in the next decade," António Mexia, EDP CEO, added.
EDPR and Engie are also partners in two floating offshore wind projects in France and Portugal and in the Dunkerque offshore wind tender currently ongoing in France. The JV is expected to be operational by the end of 2019.
India of course will be an important part of this one assumes, , with its 30 GW offshore wind target by 2030.
(Visited 279 times, 1 visits today)