RE Growth Plateaus for the First Time in 17 Years: IEA
The Latest IEA report gave some grim news for the Renewable Sector worldwide. The RE capacity addition stalled for the first time since 2001
According to a report released on Monday by the International Energy Agency (IEA), installations of renewable energy plateaued in 2018 for the first time in nearly two decades of record keeping. Even if it's just a temporary hiccup, a pause in installations is an extremely worrisome sign about the world's ambition to address climate change.
The world added 177 gigawatts of renewable energy to the grid last year, matching 2017's total. The last time the world didn't see year over year growth in renewable capacity additions was 2001.
While last year's capacity additions to the grid provide enough juice to power 64 million Americans homes, the plateau is troubling. According to the IEA, renewable capacity has to grow by 300 gigawatts per year until 2030 for the world to have any hope of reaching the Paris Agreement goals. That's only around 60% of the net additions needed each year to meet long-term climate goals.
"The world cannot afford to press 'pause' on the expansion of renewables and governments need to act quickly to correct this situation and enable a faster flow of new projects," Fatih Birol, IEA's executive director, said.
The cause for the capacity standstill was largely driven by China, where year over year installations fell from 82 gigawatts in 2017 to 77 gigawatts in 2018, driven by solar power installations falling compared to 2017. The dip in solar was due to China implementing new regulations and removing some subsidies for utility-scale solar. While China still installed three-and-a-half times more clean energy capacity than the European Union, its closest competitor, the dip hurt.
Speaking of the European Union, it also saw a drop in the installation of new capacity in 2018, along with India and Japan. The U.S., and the IEA catch-all "other countries," saw their installations increase compared with 2017.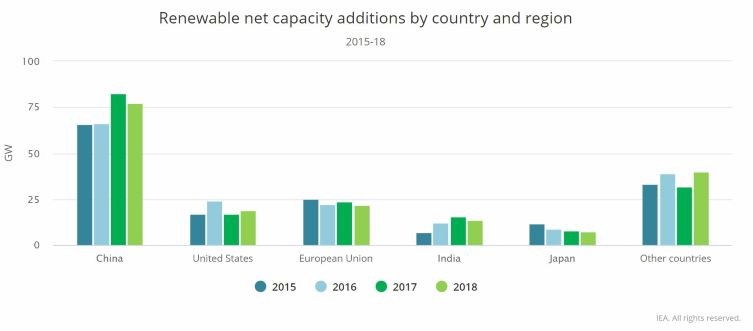 Last year saw global carbon emissions rise to record heights as our time to avert catastrophic climate change grows ever shorter.
The key to ensuring that growth happens is setting policies that help rather than inhibit installations. In developed countries, experts suggested that policymakers should focus on transmission improvements to help get renewables onto the grid. Renewables plus battery storage could also help make intermittent sources like wind and solar easier to integrate.
In developing countries, it means turning away from fossil fuels as the driving force of energy development. That also requires money and technical know-how, something developed countries could definitely help provide.
(Visited 107 times, 1 visits today)