Water Levels in Major Reservoirs Increase After Rains
Widespread rains have significantly filled India's reservoirs as data from the central water body shows.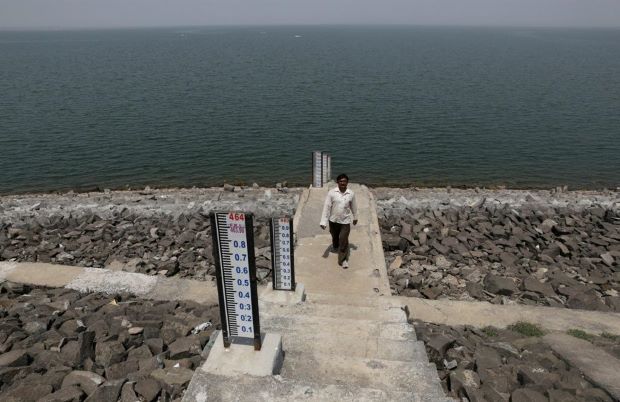 The Central Water Commission, which monitors live storage status of 103 reservoirs of the country, said that the total cumulative capacity of the reservoirs currently stands at 76.845 BCM, which is 47% of total live storage capacity of these reservoirs.
The nearly half-filled reservoirs show that India's water levels are still below the last year's figure of 77.403 BCM and the average of last 10 years storage 79.471BCM. Which means despite normal rains, the water levels haven't increased significanlty indicating other problems like lack of rainwater diversion to these reservoirs.
The news also indicates the reality on the ground as much of our rainwater flows into storm water drains before permeating into the underground water reservoirs, the main source of water in big cities.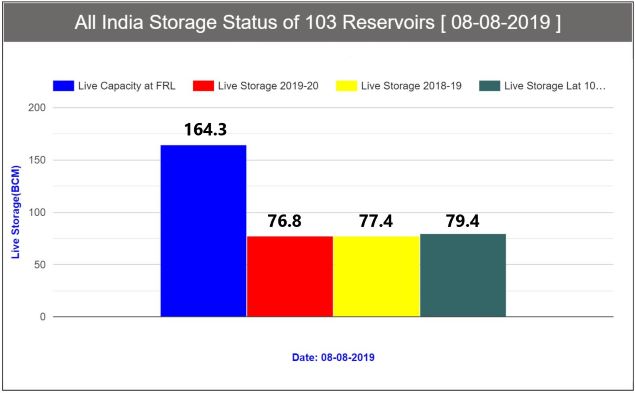 Area wise, Northern India fares better than the rest of the country. The areas include Himachal Pradesh, Punjab and Rajasthan with 6 reservoirs under CWC monitoring. The current level is 12.40 BCM which is 69% of total live storage capacity of these reservoirs and comfortably above the last year's 39% storage.
Eastern India, which has been getting incessant rains for the past few weeks, has not been able to translate the volume in terms of water levels. In the states of Jharkhand, Odisha, West Bengal and Tripura, where there are 16 reservoirs under CWC monitoring, water levels stand at 32% with 6.09 BCM of water. Still in single digit and well below last year's 47% mark.
Despite this, there is hope that forecast of heavy rains may change the story soon. However, it must be pointed out, this monsoon has been drier than normal in north-eastern parts of India, including parts of West Bengal, Jharkhand and Odisha. The city of Kolkata had only 110 mm (4.35 inches) of rainfall in July, well shy of the average of 300 mm (11.85 inches) for the month.
Monsoon has been hyperactive over Maharashtra and Gujarat. The 35 reservoirs recorded 17.40 BCM of water which is 54% of the total live storage capacity of these reservoirs. The storage during the corresponding period of last year was 35%. While many parts of Maharashtra and Gujarat were struggling for water last month, these areas are now inundated. In many areas like Kolhapur, only trees and rooftops were visible due to flood water.
Continuous rain has triggered flooding in parts of Maharashtra, Karnataka, Goa, Gujarat, Kerala, Andhra Pradesh, parts of Odisha and West Bengal, leading to heavy casualties and widespread destruction.
Andhra Pradesh, Telangana, Karnataka, Kerala and Tamil Nadu has 32 reservoirs under CWC monitoring. These have live storage capacity of  21.83 BCM which is 42% of total live storage capacity. Reports suggest that heavy rain in the catchment area of the Cauvery and its tributaries since the past few days in the south Karnataka region has increased the storage levels of major reservoirs in its downstream.
Kerala government has issued a red alert in the wake of excess rainfall. The Kochi International airport has suspended all operations till Sunday as the runway area is waterlogged. The state government has declared holiday for the day for all schools. Wayanad, Kozhikode and Idukki are the most-affected districts.
the states of Uttar Pradesh, Uttarakhand, Madhya Pradesh and Chhattisgarh, which form the topmost water-stressed states in the country, are doing fairly well. CWC, which monitors 14 reservoirs there, said live storage available in these reservoirs is 19.13 BCM which is 44% of total live storage capacity of these reservoirs faring slightly better than last year's 42%.
The monsoon is currently in its strongest phase over many parts of Peninsular and Central India. The flood situation remains grim in southern Maharashtra and northern Karnataka, where the swollen Krishna, Ghataprabha, and Malaprabha rivers have wreaked havoc, forcing evacuations.
(Visited 323 times, 1 visits today)