Red Flags for India in Global Water Stress Rankings
The WRI online tool painted a rather worrisome picture for India as the rankings showed that the country is dangerously placed in the list of top 'Water stress' countries.
India ranks 13 in the list of 17 Most water-stressed countries in the list of that contains over 100 nations of the world. The World Resources Centre or WRI has released a tool that has ranked various countries on 'water stress', 'Drought Risk' as well as 'Flood Risk'.
India comes among the top positions where "water stress" in the country is "extremely high", according to an exhaustive new global report released on Monday. This means that the country is running out of ground and surface water.
The bad news doesn't end there. According to the report, India ranks fourth in the list of countries facing the risk of drought.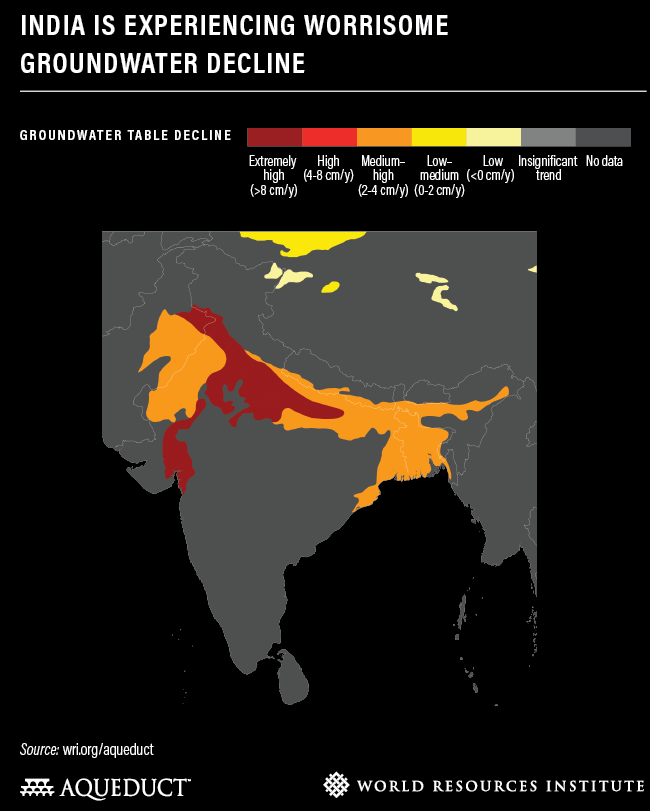 India's Water Stress: Beyond the Surface
India's water challenges extend beyond current events in Chennai. Last year, the National Institution for Transforming India (NITI Aayog), a government research agency, declared that the country is "suffering from the worst water crisis in its history, and millions of lives and livelihoods are under threat." Aqueduct's findings put this crisis in context: India ranks 13th for overall water stress and has more than three times the population of the other 17 extremely highly stressed countries combined.
WRI says that the new Aqueduct data includes both surface and groundwater stress for the first time. Aqueduct includes 13 indicators of water risk, including new additions such as groundwater availability and water depletion, and monthly snapshots of water stress and variability.
The report shows that in addition to rivers, lakes, and streams, India's groundwater resources are severely overdrawn, largely to provide water for irrigation. Groundwater tables in some northern aquifers declined at a rate of more than 8 centimeters per year from 1990-2014.
Around half of India's population has been staring at water crisis or popularly known as Day Zero for the past few years. Recently Chennai faced the brunt when the local taps and water bodies became bone dry affecting people, businesses and economy which came to grinding halt.
"The recent water crisis in Chennai gained global attention, but various areas in India are experiencing chronic water stress as well," said Shashi Shekhar, former Secretary of India's Ministry of Water Resources, and Senior Fellow, WRI India in a statement. "India can manage its water risk with the help of reliable and robust data pertaining to rainfall, surface, and groundwater to develop strategies that strengthen resilience. Aqueduct can help identify and prioritize water risks in India and around the world."
States staring at Water Crisis
The Report also ranked various states that have the highest incidence of water stress. Punjab, Haryana, Rajasthan, Uttar Pradesh, Chandigarh, Gujarat, Uttarakhand, Madhya Pradesh, and Jammu and Kashmir are among the worst hit
But the report added that Indian authorities are taking some constructive steps with the inception of Jal Shakti Ministry. It adds that the other solutions the country could pursue include more efficient irrigation; conserving and restoring lakes, floodplains, and groundwater recharge areas; and collecting and storing rainwater.
Way Forward
The report admits that there are countless ways to mitigate or manage water stress depending on geography but mentioned 3 pretty 'straightforward' ways:
Increase agricultural efficiency: It suggests that farmers can opt for seeds that require less water and improve their irrigation techniques by using precision watering rather than flooding their fields. Whereas innovation, finance, and consumer behavior can also make a difference.
Invest in grey and green infrastructure: WRI and the World Bank's research shows that built infrastructure (like pipes and treatment plants) and green infrastructure (like wetlands and healthy watersheds) can work in tandem to tackle issues of both water supply and water quality.
Treat, reuse and recycle: We need to stop thinking of wastewater as waste. Treating and reusing it creates a "new" water source. There are also useful resources in wastewater that can be harvested to help lower water treatment costs.
(Visited 441 times, 1 visits today)