Meet Gogoro's VIVA, the Tesla of Scooters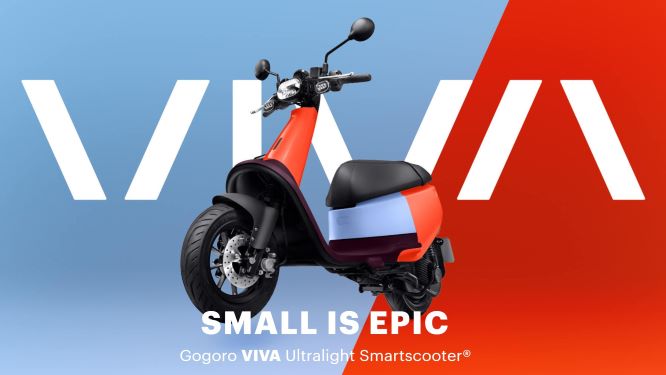 Gogoro has plans to launch its cute electric city-scooter called Viva in Taiwan this October and other global markets in 2020.
Taiwan's Gogoro has a cute new scooter which is small and more adaptable for the ever congested roads of growing cities but is all-electric. With swappable batteries under its hood, this nimble smart scooter is Gogoro's Viva– which has a range of 85 Kilometres.
The major difference Viva has from the other Gogoro scooters it that it houses only one battery unlike the standard two. Gogoro has plans to launch this smart yet quick scooter in Taiwan this October for USD 1800 and will target some of the global markets in 2020.
Gogoro wants Viva to replace 50-100 CC gas scooters that are used for short intercity trips and with 1400 battery swap stations already in place in Taiwan, the move makes perfect sense. Prior to the launch, Gogoro has been switching to new batteries that use the same Panasonic cell which Tesla uses for its Model 3, which will give it a competitive edge against other competitors.
What's more, is that Viva will be 'completely customizable' with over 100 accessories. Don't let the small size fool you because Viva will come with 21 liters of storage. The body will be made from recyclable scratch-proof solid-core polypropylene and will be available in five color combinations. The lightweight Viva only weighs 80 kilograms.
Gogoro debuted its first scooter way back in 2015 at an electronics show and since then has released various models and also motorcycles which are larger and faster than Viva. The most recent was Gogoro 3 which runs 169 kms on two full batteries and is priced at USD 2500.
Since 2015, Gogoro has grown into a major market player. According to Gogoro's co-founder and CEO Horace Luke, his company now accounts for 95 percent of Taiwan's electric vehicle market share and about 17 percent of new vehicles sold in Taiwan which includes gas run scooters too. With Viva, it is planning to carve out 25-35 percent of the market share among the segment which travels within 5 Km radius each day.
Till now Gogoro has sold more than 200,000 smart scooters and is looking to expand beyond Taiwan into international markets like the European Union, South Korea, and Japan.
(Visited 619 times, 1 visits today)