Twenty Two & Taiwan's Kymco Launch JV in India, to Develop Electric Scooters with Battery-Swapping
The Electric scooters category continues to heat up with new entrants and planned launches. A far cry from the situation just 5 years back, when Honda Scooters and Motorcycles seemed to be the only serious player in the segment
Two is better than one
Twenty Two Motors announced on October 15 that it has formed a joint venture with Kymco, marking the world's fourth largest electric scooter maker's entry into the Indian two-wheeler market.
Through this new venture – "Twenty Two Kymco", the two brands will work together to combine expertise and technology on electric scooters and beyond. As a 25% stake holder in Twenty Two Motors, Kymco is bringing its cutting edge, electric vehicle total battery solution – Ionex and Ionex Commercial battery system, which the company says will help improve the perspective on electric mobility in India.
The Ionex battery system allows customers to swap batteries at a charging port, which means the wait time is next to nothing.
Kymco Chairman Allen Koo said at the official launch event of the venture that, "The company sees great potential for electric vehicles in India. The trend has not caught on yet because Indian buyers have not had a good electric product to rely on and Kymco hopes to change that, he added."
Twenty Two Motors "Flow," electric scooter that was officially launched at the 2018 Auto Expo, will be upgraded under this new collaboration for a launch in 2019, which will see the scooter be retrofitted with the Ionex battery technology developed by Kymco. The new removable Ionex battery will be lighter in weight, waterproof and easy to swap.
The batteries take approximately an hour to charge completely and will provide the upgraded Flow with a fixed reserve battery on board, which will constantly be kept fully charged by the removable battery. As a result, the riders can continue riding for up to 20 km without the help from the removable battery.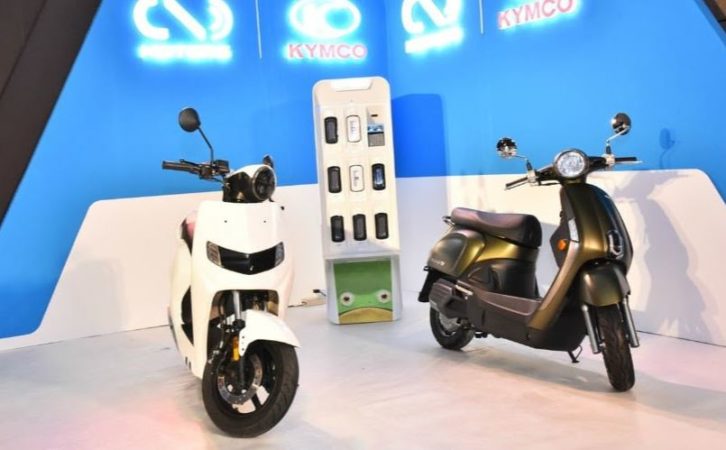 Elaborating on Twenty Two Motors collaboration with Kymco, Twenty Two Motors CEO & co-founder Parveen Kharb said, "With Ionex, the Flow scooter will be able to eradicate range anxiety from electric two-wheeler users. And eventually there will be more Kymco products making their way to India under Twenty Two Kymco brand."
Twenty Two Kymco will also be making several charging ports/battery swapping points to be available around the city of operation, beginning with Delhi and then expanding to others metros. Twenty Two Kymco "Flow" two-wheeler will be available in New Delhi from early 2019, followed by Gurugram, Jaipur, Hyderabad, Pune and Bangalore soon afterwards.
The launch follows closely on the launch by Ather Energy in Bengaluru, besides a slew of other smaller brands and firms that are seeking their fortunes in the market anew, with partners, usually Chinese. With so much happening, while individual firms may face some surprises and even disappointments, it is clear that the electric scooter category will see some strong growth for the coming period, proving rightg experts who have predicted that two wheelers will be the category to  watch in the electric space for the next couple of years. Not to mention the three wheeled e-rickshaws, which seem to add thousands of numbers in the time it takes the government to say FAME.
(Visited 888 times, 1 visits today)