Over 20 Delhi Schools Get Solar Power, 80 More Soon To Join
The move is in line with the Delhi government's flagship program to make the national capital a solar city in the coming years.
According to Delhi's Department of Education, solar panel installation has been completed in 21 school buildings as of now. Now the Solar installation for 80 more school buildings is going on and is expected to complete soon.
Delhi Education Minister, Manish Sisodiya, who went to inspect one such school and reacted, "Successful pilot of terrace solar panels in Delhi Government Schools. Electricity bill of this school reduces from Rs.35,000 to Zero. Already installed in 21, being installed in 100, the plan is to install in a total of 500 schools important step towards power independence for Delhi!"
The solar electrification of Delhi government schools will also contribute to achieving Delhi's target of generating 2,000 MW electricity through solar power by 2025, as stated in the Delhi Solar Energy Policy, 2016. According to Delhi's solar policy, deployment of solar panels on government and public institutions is mandatory.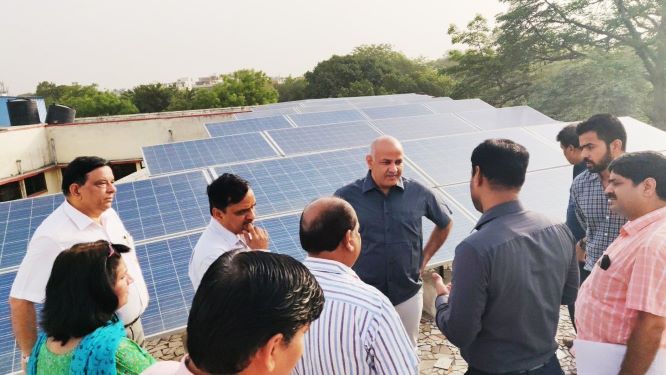 The First solar project for schools was commissioned back in 2017 at Sarvodaya Kanya Vidyalaya, Andrews Ganj.
Delhi Official added," The schools are using solar energy to light their classrooms, corridors, toilets, canteens and campus street lights. We have a total of 740 buildings with 1100 schools running (in shifts) in those. We are in the process of rolling out a tender for the rooftop solar panel for more buildings with an aim to connect all the buildings with renewable energy. Once the transition from conventional to solar is completed, it will surely bring a major impact not only in terms of cost cutting but also in terms of environmental conservation and an attitude change from student exposed to green energy from early age."
The official further informed that the solar panels installed in 21 schools was completed with an investment of Rs. 4.2 crore, and are generating 620 kiloWatt (kW) of power per day which translates to 2,232 units per day, on an average when the sun is shining bright. As per guidelines, the School solar project gets financial assistance of 30 % from the Ministry of New and Renewable Energy (MNRE) and the rest of the project cost is being borne by the government of Delhi.
The buildings generating power using solar panels are connected with 'net metering' with the local DISCOMs (Distribution Companies). Through net metering, electricity generated by the solar rooftop system of the schools is first utilized to meet the internal requirements after which the excess electricity is exported to the local DISCOM grid. Subsequently, when the schools import power from the grid when there's no sunlight to produce energy, it is adjusted against the amount of electricity exported and so over time the electricity bill goes down and can even become zero if the amount exported exceeds the electricity imported. As per the official, the project is helping schools save Rs. 35,000 to Rs. 40,000 per month each. Thus, an estimated sum of Rs. 5.35 lakhs is being saved by 21 schools every month at the current DISCOM tariff of Rs. 8 per unit.
(Visited 459 times, 1 visits today)