Toxic Leak From Essar's Singrauli Coal Plant Contaminates MP Farms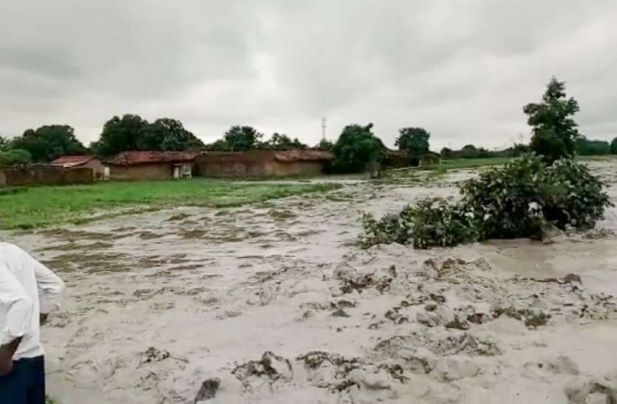 Singrauli ash pond Leak Pic courtesy Patrika
Nearly 500 farmers in Madhya Pradesh suffered from toxic leak which have ruined their crops after a fly-ash dyke used by Essar's thermal power plant in Singrauli district collapsed after heavy rainfall.
The spillage from this artificial pond known as Rakhi Dam has been responsible for contaminating nearly 4 km radius area near the power hub of the state and has caused chaos and panic among the village dwellers nearby.
"Initial investigations reveal that there was negligence on the part of the power company," Singrauli District Collector KVS Chaudhary told The Times of India. "The spill has damaged crops and soil. It's also seeping into the river." He said the water resources department had formed a committee to analyse the incident.
A statement released by Essar confirmed that the breach had occurred. "Our security personnel deployed at the location have given a statement to the local police saying that they spotted 4-5 unidentified persons fleeing from the site of the incident last night. We have filed an application for FIR alleging sabotage, and also apprised all local authorities about the incident," the statement read.
Photos and videos of the incident show farmland covered in toxic sludge. The artificial pond stored the coal ash which contained toxins such as arsenic. Research says that the leak of the ash into the ground could result in the contamination of groundwater and can severely affect the residents' health.
Jagat Narayan Vishwakarma, an activist, said in a public statement, "The Essar Power Plant Rakhi Dam is 35 km from Singrauli district, broke down, affecting three villages, destroying the farming of 500 farmers. Many farmlands in 2 villages are filled up to 4 to 6 feet of ash. 5 children were rescued. The loss is in crores. A company spokesman said that this is the handiwork of the villagers. People are upset and this statement of the company is shameful. Rakhi Dam contains many poisonous elements which will harm the local people. Such allegations can worsen the situation."
Singrauli, that spans MP and Uttar Pradesh, is India's thermal power hub. It's also a critically polluted zone, among India 's worst. Singrauli is the country's second most polluted industrial zone after Ghaziabad. It houses 10 coal-based power plants and is situated along the Madhya Pradesh-Uttar Pradesh border. This is not the first time the red flags have been raised for the leakage. Way back in 2013, the pollution control board had reported a similar leak into the water streams.
Image Courtesy Patrika
(Visited 465 times, 1 visits today)