Cleaning Delhi's Underbelly: The Gotakhors of Yamuna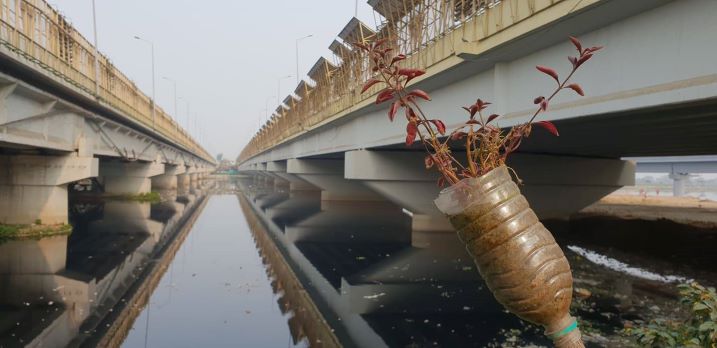 With hundreds of schemes and drives underway to clean our rivers, the change often comes from an unknown hero(es), who work silently and selflessly. Today we look at such capeless heroes---the Gotakhors (Divers)of Yamuna
India is the second most populous country in the world, with more than 1.2 billion citizens. Roughly half of India's population, a staggering 522 million, still practice open defecation. The World Bank estimates that 21 percent of communicable diseases in India are linked to unsafe water and the lack of hygiene practices. Further, more than 500 children under the age of five die each day from diarrhea in India alone.
Much like other 'holy' rives in India, Delhi's lifeline Yamuna hasn't had luck when it comes to rejuvenation projects. a week earlier, the National Mission for Clean Ganga (NMCG) launched a drive to clean ghats of Yamuna River in New Delhi. It aims to increase public awareness and increase people's participation to rejuvenate the river.
The move has come in a bid to control the pollution-levels in the river Yamuna. The Yamuna river flows through New Delhi can be often seen covered under thick, detergent-like foam. The NMCG initiative wants to clean the Ghats with a two-pronged approach of spreading awareness and local involvement in cleaning the Ghats.
But away from the media glare, there are people called the Gotakhors (Divers) who have been trying to clean Yamuna as a part of their duty. Speaking to IamRenew, Meghatithi Kabeer, an active environmentalist and filmmaker, argues why Yamuna needs our care, "Yamuna is a symbol of the current state of our civilization. The river downstream of Delhi is declared dead by the United Nation. It is said that rivers shape civilizations and as this river is dead perhaps soon our city, our nation's capital will meet same fate. I had the opportunity of forging a good bond with these gotakhor who live in the dark underbelly of our city Delhi and was deeply moved by their unshakable reverence towards the river."
Did You Know? Out of the total catchment's area of 861404 sq km of the Ganga basin, the Yamuna River and its catchment together contribute to a total of 345848 sq. km area which 40.14% of total Ganga River Basin.
Despite government efforts, the Yamuna has yet to see its cleaner heyday. According to the study, published in the International Journal of Engineering Sciences & Research Technology, "Even expensive water treatment technologies are incapable of treating the polluted river water. And, the conventional water processes based on chemical filtration and biological treatment are not suitable for removing the Total Dissolved Solids (TDS)." This means Yamuna waterway and Delhi's are 'toxic' even after treatment and should not be used for drinking or irrigation. This has been the biggest worry of environmentalists.
"The journey so far has made it clear in my head that it will be the poor who will be the first and the most hit by this impending water crisis. We sit next to the stinking river and dream of a day when we shall see it cleaned. In this country we talk of cleaning Ganga so much but we forget that one of the larger tributaries of Ganga is Yamuna and till such time we clean Yamuna we will never be able to clean Ganga. If we must survive as a city, capital of this great nation and as a civilization we must [bring ]the "Dead river" to life." Kabeer pines over lack of local involvement.
Rather than waiting for others, Kabeer has opted to act. "We are working together with gotakhors and are about to launch people's driven campaign in public places, schools and public institutions to make people aware of the issue."
He believes that if people are involved in understanding their water needs and ask the relevant questions to ensure that the water they use is clean and the water they dispose of is treated before entering Yamuna stream, will make a difference. Maybe then authorities will not need clean river drives. Like cogs in a machine, the system will automatically lead to a domino effect in creating sustainable water solutions for people living in the capital regions and elsewhere.
(Visited 574 times, 1 visits today)