Eurostat Study: 11 EU Countries Already Met Renewable Energy Targets for 2020
Eurostat says renewables, such as wind, solar and hydropower, accounted for 17 percent of the energy mix in the EU in 2017 from an 8.5 percent reported in 2004, the first year for which figures were available.
The latest data report by Eurostat, released yesterday shows that the European Union produced about 17.5 % of its power needs from renewable sources in 2017. On the other hand faring better than the rest, 11 countries out of the bloc's 28 members had already achieved a 2020 goal of 20% or more.
"The EU is on track to meet its 2020 renewable target, with 11 member states already above their national targets," said Climate Commissioner Miguel Arias Canete, who has called for the bloc to aim for net zero emissions.
Has your country already achieved its renewable energy target?
The report said Sweden had the highest share of renewable energy consumption, with more than half its energy coming from renewable sources in 2017. Luxembourg had the lowest proportion, with renewables accounting for just 6.4% of energy use.
The Eurostat data suggests the Netherlands, France, Ireland, Britain, Poland and Belgium were among the EU nations still a few percentage points off their 2020 objective, as of 2017.
The Netherlands is found trailing the rest of Europe when it comes to reaching sustainable energy targets. In 2017, just 6.6% of the energy used in the Netherlands came from sustainable sources, but the target is 14% by 2020, Eurostat says. At the bottom, Luxembourg, where 6.4% of energy consumption was derived from biofuels, hydro or wind power, solar or geothermal energy in 2017, has a 2020 target of 11%. Malta has the third worst share of renewable energy as the country is 2.8% behind its 2020 target. It only got 7.2% from these sources in 2017, the third lowest after Luxembourg (6.4%) and the Netherlands (6.6%).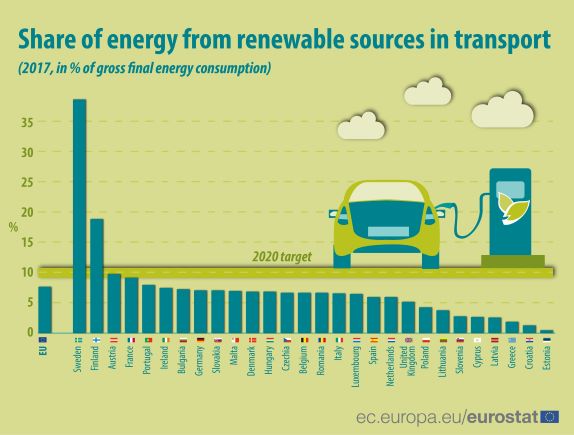 Other Key Highlights:
Renewable energy produced in the EU increased by two thirds in 2007-2017 

Consumption of renewable energy more than doubled between 2004 and 2017

Wind power becomes the most important renewable source of electricity 

Almost one-fifth of energy used for heating and cooling coming from renewable sources 

7.6% of renewable energy used in transport activities in 2016 in EU
The targets are part of the bloc's overall drive to reduce greenhouse gas emissions by at least 40% below 1990 levels by 2030 in line with the Paris Agreement to keep global warming well below 2 degrees. The 2020 target is a stepping stone to the goal of 32% of RE in 2030. The EU as a whole aims to make sure 20% of gross final energy consumption comes from renewable sources by 2020.
The Eurostat report, however, contradicts an earlier report by European Environment Agency which said last year the bloc's shift towards renewable energy was slowing, putting its ability to meet its 2020 and 2030 targets at risk. It had said that except for Nordic countries, almost all the other countries in the block showed slowed efforts to achieving 2020 RE targets.
For more information click here.
(Visited 736 times, 1 visits today)