Vibrant Gujarat Summit: Netherlands Signs 6 MoUs & Industry Giants Commit Investments in RE

The Vibrant Gujarat Global Summit, which commenced today, has begun seeing action from 15 partner countries starting from the Netherlands. While the summit is scheduled from 18-20 January, we might see more agreements and commitments between countries in the renewable energy space.
Gujarat Chief Minister Vijay Rupani today welcomed a team of representatives from Netherlands, and discussed the fostering of ties in the field of technology to realize the Kalpsar Yojana and development of Dholera SIR. He further proposed of possibilities in the field of port development, maritime, and drainage and praised the innovations of Netherlands.
The CM said that Gujarat has provided a large market of global companies to invest through its business-friendly policies and rapid industrial growth.
The delegation led by the minister of taxation and customs of Netherlands, Menno Snel who is interested in investing in the field of agriculture, energy, and manufacturing in Gujarat.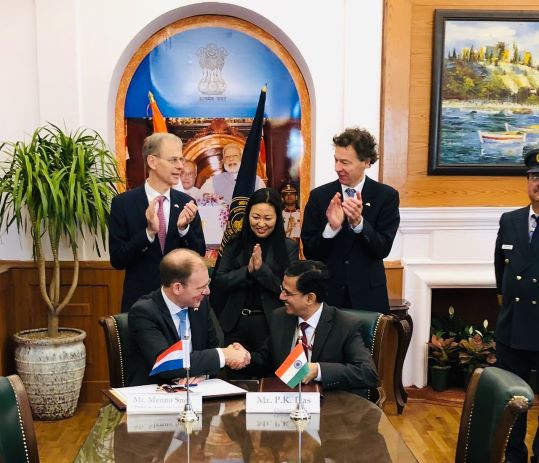 Six MoUs were signed in fields of waste to energy, the smart city with Vadodara Municipal Corporation, wind energy, solar panels, agriculture, and medical facilities.
The Dutch Contingent with more than 100 members had said that it will be signing 10 MoUs at the Vibrant Gujarat Global Summit with focus on sectors like the smart city and waste management, healthcare and agricultural cooperation.
The delegation, led by Netherlands' minister Snel, has representatives from over 45 companies, three trade associations, and government agencies.
"We met Chief Minister Mr. Rupani. We have 45 companies, out of which 10 are signing MoUs. Our delegations have been growing. Lots of MoUs are on strategic cooperation," Snel told reporters.
Among Other developments, German chemical company, BASF signed a MoU with Adani Group to evaluate investment for setting up India's First 'CO2-neutral site' which is 100% powered by renewable energy at Mundra-Gujarat. With an investment of about 2 Bn Euros, the project is expected to offer employment potential for around 2000 people.
Industrialist Gautam Adani further added that his company Adani Group will invest Rs 55000 Crores in Gujarat in the next 5 years which will include the world's largest solar park, a copper plant, a cement unit, and a lithium battery manufacturing complex.
"Over the next 5 years, our investments will include the world's largest solar hybrid park in Khavda. The anticipated investment in this park is Rs 30,000 crore.
"We also plan to establish a 1 GW Data Center Park in Mundra, a one million ton copper smelting and refining project, a cement and clinker manufacturing unit in Lakhpat, an integrated Lithium battery manufacturing complex and expand our Photovoltaic manufacturing capabilities. Overall, we anticipate a total of Rs 55,000 crore of investment in all these projects," he said.
This will lead to the creation of over 50,000 new direct and indirect jobs in the state. The announcement is separate from the joint venture with BASF.
Another industry giant, Tata Chemicals has also shown interest in setting up a Lithium Ion Battery at the summit on Friday.
Torrent Group has committed Rs 10,000 crore investment in Gujarat over and above the existing investment of Rs 30,000 crore in the State. The fresh investments will be made in the areas of renewable energy, power distribution and city gas distribution.
While Suzuki Motor Corporation said it will commission its third plant in Gujarat by 2020 and will introduce new hybrid vehicles in India with technical support from Toyota. SMC is making investments in Gujarat on a continuous basis.
The Gujarat summit has two more days over the weekend and we can expect more positive news coming our way in the renewable energy and e-mobility space.
Picture credit: Twitter
(Visited 314 times, 1 visits today)