Japan Charts Carbon Neutral Goals While UK Plans Climate Regulations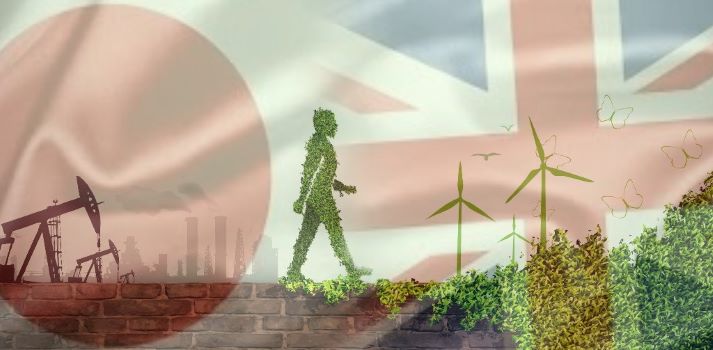 Both the UK and Japan have pledged to become carbon neutral by and around mid-century but Tokyo has refrained from making any specific targets for emissions in its announcement.
Japan
Japan's cabinet yesterday adopted a long-term emissions reduction strategy under the Paris Agreement, which includes the goal to be carbon-neutral soon after 2050. It sets "a carbon-neutral society as the final goal, and seeks to realise it at the earliest possible time in the latter half of this century."
Japan's policy is expected to be submitted to the United Nations before the country hosts the G20 summit in Osaka later this month on June 28-29.
The policy includes plans to innovate in areas such as hydrogen and carbon dioxide (CO2) capture and utilization, but did not give a specific target for phasing out low efficiency coal-fired power plants, or a roadmap for a carbon tax.
Its strategy fleshes out of commitments made under the 2015 Paris Agreement to keep the rise in global temperatures below 1.5 to 2 degrees Celsius. The strategy aims to establish commercial-sized carbon capture and utilization (CCU) technology by 2023 and to commercialize carbon capture and storage (CCS) used in coal-fired power generation by 2030.
It also includes plans to cut the cost of producing CO2-free hydrogen to less than one-tenth by 2050.
The policy says Japan will keep a 2016 pledge to reduce greenhouse gas by 80 percent by 2050 from around 2010 levels and seeks to make renewable energy a major source of electricity. It aims to reduce reliance on nuclear energy while also tackling the "reduction of CO2 emissions from thermal power generation" fired by fossil fuels like coal.
But while it says renewable energy — such as solar and wind — will become the mainstay of the country's energy use, it adds that coal-fired power plants will remain operational. Japan has long been criticized for its heavy use of coal-fired power generation and plans to build new coal-fired plants.
Climate activists say Tokyo is moving too slowly and its continued use of coal undermines its objectives. "This is especially clear in the fact that there is no indication or timeline about phasing out coal," said Hanna Hakko, senior energy campaigner for Greenpeace Japan, "You simply can't solve climate change while continuing to burn coal."
The UK
On the other side of the globe, Britain's government today outlined legislation that would make the UK the first in the EU to put its emission reduction deadlines into law.
Prime Minister Theresa May said, "This country led the world in innovation during the Industrial Revolution, and now we must lead the world to a cleaner, greener form of growth. Standing by is not an option. Reaching net zero by 2050 is an ambitious target but it is crucial that we achieve it to ensure we protect our planet for future generations."
"As the first country to legislate for long-term climate targets, we can be truly proud of our record in tackling climate change," May was quoted as saying in a statement.
She said Britain "must lead the world to a cleaner, greener form of growth". Britain outlined plans for fast-track legislation that would reduce carbon emissions to net zero by 2050.
The UK already has a 2050 target – to reduce emissions by 80%, which will now be updated.
The move was welcomed by Greenpeace campaigners there, but many were disappointed with the way international carbon credits would be used to reach the target.
Carbon credits are when a country can pay for cuts elsewhere in place of domestic emissions, is seen as a way of shifting the burden to other countries oftentimes the developing economies.
The environmental activist group Extinction Rebellion has called for the UK to reduce carbon emissions to net zero by 2025. It says 2050 is far too late to get rid of emissions in order to ensure that temperature rise stays well under 2C.
Much like UK, France has too proposed net zero emissions legislation this year as 2050 target, while countries like Finland (2035) and Norway (2030) have set a date before 2050, although the latter allows the buying of carbon offsets as well.
(Visited 183 times, 1 visits today)