Exicom and Kinetic Green in agreement for  Lithium-Ion batteries for  E-rickshaws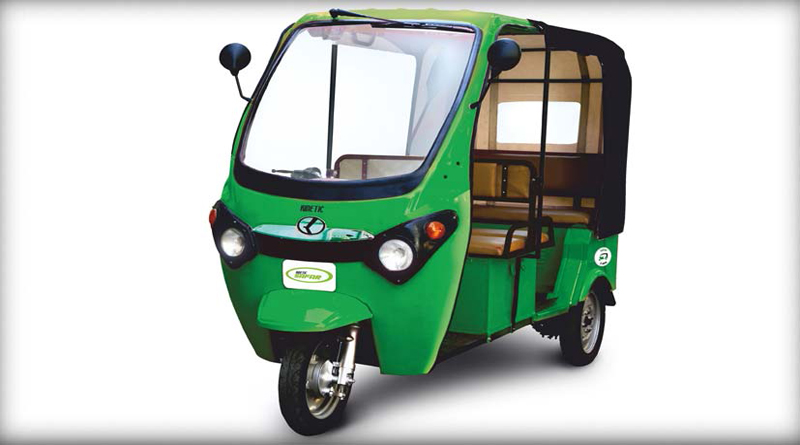 Kinetic Green, the country's leading manufacturer of government-approved electric three-wheeler vehicles will now get their Li-ion batteries from energy storage solution experts Exicom after an agreement was reached.
Exicom will provide its Li-ion batteries for the E-rickshaws from Kinetic Green, even as these vehicles are flooding the Indian roads day by day. Factors like providing first and last mile connectivity which is fast, efficient, noise & pollution free and economical is soon to thrust these three-wheelers to right at the top of the Indian transport system. This agreement to work together between Exicom and Kinetic Green is an important move for both firms to provide a steady buyer and supplier, respectively for a key component.
Recently Kinetic Green's E-three wheeler Kinetic Safar was approved by Automotive Research Association of India (ARAI) to meet all government safety norms as per Central Motor Vehicle Rules (CMVR). Equally and very well complemented by the features of Exicom Li-ion batteries for E-Rickshaws include: high energy density leading to low weight (thereby operating for more kilometres between charges), fast charging time of 2 hours, long life of 1,500 + cycles, low self-discharge, higher efficiency (i.e. 25 percent low charging cost), zero maintenance, no requirements for water top- up, options of 2 cycles per day among others which make it one of the best commercially available battery in the country and best fitted for the purpose of electric rickshaws.
These advantages are a vital aspect for the firm, whose E-rickshaw sell at a significant premium at Rs 1.4 to Rs 1.6 lacs  versus prices ranging from Rs 80,000 to Rs 1,20,000 for the million plus of E-rickshaws currently plying across cities in India, powered by lead-acid batteries.
Anant Nahata, the managing director of Exicom said in a media statement, "Kinetic Green's selection of Exicom as its partner is a testament of our world-class battery and charging infrastructure solutions. We're thrilled to play a significant role in our country's transformation towards electric mobility."
Exicom has also won a contract to provide 1,080 AC chargers and 100 DC fast chargers to the Energy Efficiency Services Limited (EESL). To be used as chargers for the TATA Tigor and Mahindra e-Verito cars procured by EESL.
copyright:iamrenew.com
(Visited 677 times, 1 visits today)