Renewable Firm Fourth Partner and Lithium Urban in Charging Tie-up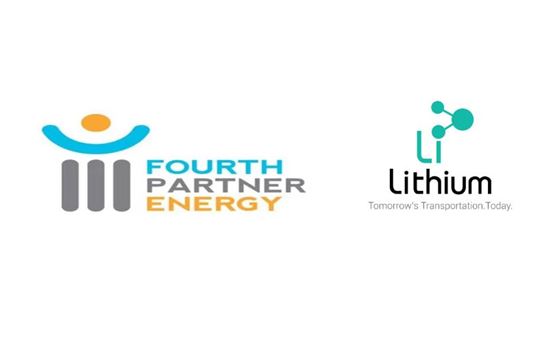 In a welcome development, renewable energy firm Fourth Partner Energy has tied up with Lithium Urban, a mobility firm that provides EV fleets to corporates and institutions.
The idea of just what will power the electric transition in transportation is of vital significance, as the whole expectation from the change is that it will lead to lowering of carbon emissions. the Indian situation, where thermal power constitutes close to 68 percent of all generated power even today is a conundrum therefore, even as the country nudges its transportation sector towards EV's.
In that respect, the announcement by Fourth Partner Energy today about its entry into the Ev charging infrastructure space is welcome. Fourth partner is doing this through a JV with  Lithium Urban Technologies, the commercial EV fleet operator. Lithium Urban has stood out in a nascent market with its corporate focus with a range of EV offerings for its clients, marked especially by its early wins at firms looking to project a more responsible face to the world.
The  50:50 JV partnership, named  'Shuchi Anant Virya', sees the two companies getting together to  build EV charging infrastructure across the country. The standout? The size and quality of these charging stations.
The JV's  first solar-powered EV charging hub in Gurugram, is capable of charging 25-30 vehicles simultaneously, according to officials. More importantly, it offers a fast charging facility, for Lithium Urban's  vehicles fleet dedicated for Wipro and American Express employees in Gurugram.
A  second charging facility in Pune, Maharashtra has also been commissioned, according to company officials.
In the JV terms, Hyderabad-headquartered Fourth Partner Energy will provide a mix of onsite & offsite solar solutions and renewable energy trading options to power Lithium's fleet, while the latter will be the anchor client providing base demand across hubs.
Vivek Subramanian, Co-founder & ED at Fourth Partner Energy, says "the global transition to electric mobility can be considered truly green only when the increased demand for energy is met by clean, renewable sources – Shuchi was formed to address this opportunity."
"Partnering with Lithium helps both companies better leverage our strengths in providing sustainable solutions and cost benefits to India's leading corporate houses," he added.
"Businesses are becoming increasingly conscious of better environmental practices. Solar-powered EV charging infrastructure will not just close the loop on procuring clean energy for EVs but will also result in improved cost efficiency. The domestic EV market is expected to grow by 35 percent annually till 2026 and fleet operators will be the first to embrace this change. Lithium is readying India for this future of shared, connected, electric mobility," said Vikash Mishra, Head of External Relations of Lithium Urban Technologies.
On the Pune facility, Vinayak Kathare, Business Head at Shuchi, said that "this Pune facility near Kharadi is one of India's largest EV charging hubs for four-wheelers; and has the capacity to charge over 40 vehicles at a time. The plan for FY 21 is for Shuchi to add a couple of more charging hubs across Delhi-NCR, and at least one each in Hyderabad, Bengaluru and Mumbai."
A new focus on EV charging stations in recent months seems to have settled the debate on what comes first, when it comes to EV's and EV charging stations. From government entities like EESL, to energy PSU's, and now private players, EV charging stations have clearly become a priority, to provide potential users the confidence to make the shift to electric. Supporting the move is subsidies from the FAME 2 scheme, besides of course the government's move to limit any drop in pump prices for petrol and diesel, despite a sharp drop in global crude prices.
Lithium Urban has reportedly raised a total of $8 million of funding till date, and is looking to raise a further tranche soon.  The firm had also announced plans to buy electric buses from China's BYD, besides more electric SUV's from MG Motors, which owns the Hector brand in the space.
(Visited 494 times, 3 visits today)