K-Pop Fans Gift Popular Rapper a Forest
An exquisite fangirl moment as BTS fans gift their idol a forest, the most sustainable and thoughtful gift ever.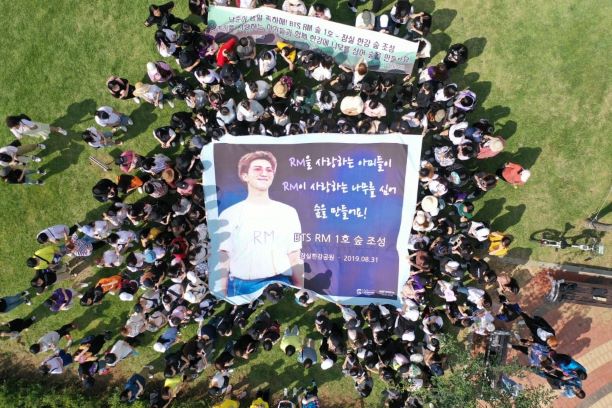 Gifting trees are becoming passé.
If you have ever encountered the K pop fans, you will know that the word 'fans' do take a back seat as they might as well be called devotees. And one such thing just proves the point here. The BTS group, which is a famous Korean Boy group, hinted at celebrating the birthday of one of its beloved members known as Rap Monster or RM. RM's birthday is on September 12.
A few days earlier, RM tweeted that he loves working for the environment and bettering the world and that rubbed off positively on his fans.
According to the Korean Federation for Environmental movement Soompi, about 250 fans gathered on a Sunday and built him a forest named BTS RM Forest no. 1 as a green pre-celebration gift to celebrate the 24- year old rapper and music producer's birthday. The fans had decided to construct a forest of 1250 bridal wreath spirea to honour him.
Soompi says that the fans managed to collect 1,994,000 won (approximately $1,600) and 9,120,000 won (approximately $7,500) for a total of 11,114,000 won (approximately $9,100) to go towards the forest.
"ARMYs created a mini-forest
In 2020, the fans plan to create "BTS RM Forest No. 2 and provide fresh air and a rest area for citizens who visit the forest." The patch of greenery is currently located in front of the clock tower at the Jamsil Hangang Park in Seoul, South Korea.
While we feel happy when we gift plants or trees to show our appreciation, K-Pop fans have upped their game. It goes to show that icons too can start a green movement and use their fame for more greener ventures. Closer home, the last time we heard about forest as a gift option was in 2017 when Kareena Kapoor had gifted her son Taimur a forest. Maybe the time has come for celebrities to adopt forests or plan with their fans to grow one. This way they can show their loyal fans that they too care for the environment and want to act rather than appear on public notices which only says 'save the environment'.
Picture credit: Soompi
(Visited 729 times, 1 visits today)