Smog Covers Delhi While Mumbai Drowns in Rain
While Delhi woke up this morning to a thick smog, Mumbai was struggling to stay afloat after torrential downpour.
Resident of Delhi woke up to a smoggy day, much before the onset of winters and in the middle of the monsoon season. Driving down Delhi's arterial ring road, all one could see was a thick haze blanketing the surrounding neighbourhoods.
The air isn't nippy yet to expect any fog which left us wondering what the reason could be behind the layer of smog. The grey weather can easily remind you of post Diwali season where you can experience shortness of breath and cough.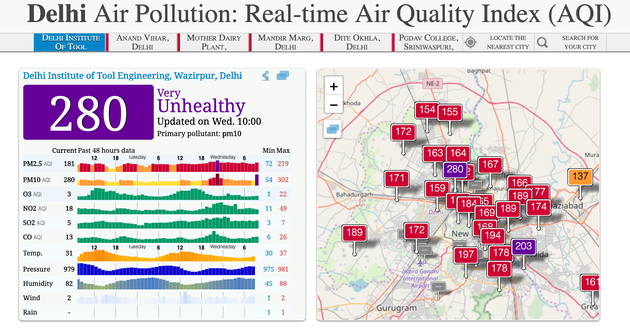 The air quality in Delhi was at 'hazardous' during peak time when office-goers leave for work. Areas in Aerocity, Diplomatic Enclave, Dwarka, especially Sector 3, Najafgarh, Pitampura, Rohini and even greener areas like Vasant Vihar experienced 'unhealthy' air quality. It is advisable to wear a mask and avoid any outdoor activity especially for kids, elderly and pregnant women. Air purifiers to control indoor pollution is recommended too.
While Delhi is gasping for fresh air a full month before crop stubble will likely burn in neighbouring states, country's financial capital Mumbai is drowning in a deluge.
Many areas of Mumbai are inundated after rains started to pour last night. The Meteorological Department yesterday had indicated heavy rainfall for Mumbai and other adjoining districts for the next 2 days. Traffic has come to a standstill due to heavy showers and water logging in areas of Amrut Nagar, Gandhi Nagar, Mulund, Andheri, Powai, Dharavi, Chembur and Kurla.
In the wake of the heavy downpour, the BMC has instructed all schools to remain shut.
In wake of IMD's warning of heavy rainfall for the rest of the day too, the schools shall remain closed today. The Principals of the schools where students are already in, are requested to take all precautions and ensure that the children are sent back home carefully and safely.

— माझी Mumbai, आपली BMC (@mybmc) September 4, 2019
Mumbai's local trains are facing delays too due to water-logging on the tracks. Latest reports say tracks at Thane railways station are submerged too. The authorities have requested residents to stay indoors. Reports emerging from Mumbai suggest that the city has so far received about 15 cms of rain while areas such as Thane and Palghar have received more than the average rain so far.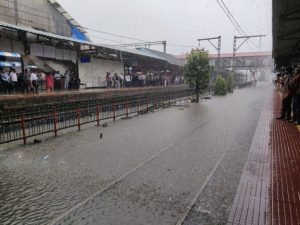 The IMD has already issued an Orange alert for Mumbai and Thane areas for today. It forecasts that these two cities will receive heavy to very heavy rainfall at isolated places. The term 'heavy rain' indicates rainfall range from 64.5mm to 115.5 mm while 'very heavy rainfall' indicates rainfall between 115.6mm and 204.4 mm. IMD has also forecast that temperatures will remain between 24-29 degrees Celsius respectively.
Delhi and Mumbai slid in the Economist Intelligence Unit's Global Liveability Index for 2019, released Wednesday. While Delhi fell down six places from 112 to 118 due to the world's worst air pollution, Mumbai has slid two places to 119 from 117. The liveability index shows that these two metropolis can have many answers to many unspoken questions that are affecting many growing cities, if only they prepare their actions well in advance.
(Visited 363 times, 1 visits today)