Gadkari Bats for Clean Fuel, Predicts All Electric Buses in India in 2 Years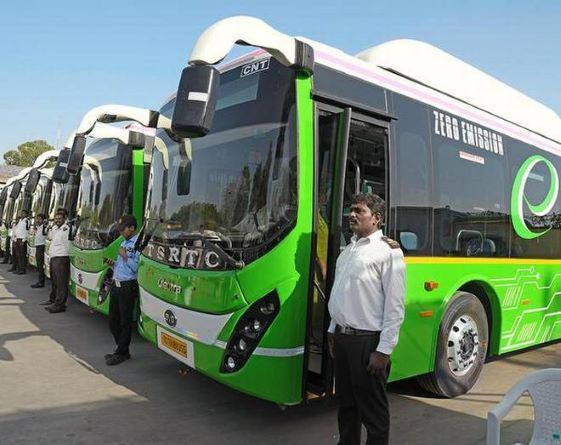 Only electric buses will run across India in the next two years and that too without making it mandatory, predicts Union Road Transport and Highways Minister Nitin Gadkari.
Only electric buses will run across India in the next two years and that too without making it mandatory, Nitin Gadkari, India's road transport and highways minister, said in New Delhi on Sept. 23.
Speaking at an event on energy efficiency in micro, small and medium enterprises, Gadkari said that cost-saving in running Internal Combustion Engine vehicles on CNG, Bio-CNG, Bio-fuels, LNG and electric vehicles powered by renewable energy is reason enough to switch to EVs without making them mandatory or banning petrol and diesel-powered vehicles.
"In the next two years, all buses will switch to electric… and powered by ethanol, methanol, and CNG," Gadkari said making a strong case for moving away from expensive fossil-fuel-powered vehicles to more green and cheaper alternatives like clean-powered vehicles.
He also reiterated that there was no need to ban any fossil-fuel-powered vehicles as the trend for alternate clean fuels, including EVs, is catching on like e-bikes, e-cars and soon, only e-buses across India.
Gadkari also illustrated the benefit of switching to clean fuel led by bio-fuels and encouraged the MSMEs to take it to India's rural, agricultural and tribal areas as a new industry, giving examples of case studies that various ministries under his leadership have undertaken.
India, which is the largest two-wheelers market in the world, offers a huge space for new car sales. India has 28 cars for every 1,000 people, much lower as compared to the US or Europe which have 980 and 850 cars for every 1,000 people respectively. To fill in this, the government has lofty plans to complete at least 40 percent of electrification of its private transport, phase out fossil run autorickshaws by 2023 and two-wheelers (under 150 CC) by 2025.
This year, the government introduced the Rs 10,000 crores FAME II incentive scheme, operational since April and many other enticements like tax breaks, lower GST and others to push EV sales. Despite these, the market has been found to be wary of EVs due to range anxiety and a missing EV charging infrastructure.
In August, the Department of Heavy Industries had approved 5595 electric buses under the FAME India scheme phase II. The move is in line with the government's push towards electric mobility in the public transport system.
Gadkari's prediction for EVs and e-buses and also his vote for alternate clean fuels to power ICE vehicles will no doubt boost the confidence of users and manufacturers as he was confident that simple economics will score over the hurdles of adoption, a key decider in India's price-sensitive and sentiment-driven market.
(Visited 609 times, 1 visits today)