Key Initiatives Launched at UN Summit: From Climate Suit to Investment Platform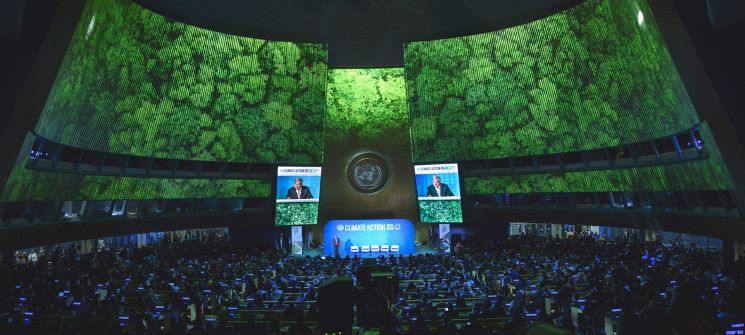 Targeting Climate Change and its various facets, many governments, institutions as well as individuals came together at the UN Summit on Monday to launch initiatives
The UN Climate summit not only saw thunderous Greta attacking world leaders but many agencies launching key initiatives to add urgency to steps to mitigate Climate emergency.
Climate Investment Platform:
The Green Climate Fund, IRENA, SEforAll and UNDP jointly launched a Climate Investment Platform (CIP) to increase the flow of capital and investment into clean energy projects. The CIP will channel low-carbon, climate-resilient investments in developing countries to help meet climate ambitions.
The first area of interest for the platform is Global transition to clean energy given that 2/3 of total green house emissions come from energy. The CIP will present its progress at UNFCCC COP 25 in December 2019.
"The Climate Investment Platform is a crucial initiative that will simplify access to climate finance. It will catalyze investment for mitigation and adaptation in developing countries, supporting those most in need of climate action," said Green Climate Fund Executive Director Yannick Glemarec.
"Renewable energy is the most effective and ready solution to rising carbon emissions. Together with energy efficiency, they can deliver 90 percent of the emission reductions needed under the Paris Agreement, but investment and deployment must increase significantly," said IRENA Director-General Francesco La Camera. "This partnership combines the strengths of the respective organizations to deliver tailored, proactive policy and investment support to set the energy transformation on a climate-safe path."
The Three Percent Club
The three percent club is another such initiative launched at the UN Climate Summit, where countries, businesses, and international organizations can commit to driving 3 percent global increase in energy efficiency each year – a move that can help limit climate change and save energy wastage.
Th coalition is inspired by IEA's study that showing that the right efficiency policies could deliver over 40 per cent of the emissions cuts needed to reach the goals of the Paris Agreement, without requiring new technology.
Fatih Birol the executive director of the IEA said, "Energy efficiency is the one energy resource that all countries share in abundance, and it can help reduce emissions while enhancing their peoples' well-being. Our analysis shows that we can collectively achieve much higher rates of progress."
According to EEGlobal Alliance, the coalition will work to quicken the deployment of available energy-efficient technology and materials in buildings, transportation, appliances, lighting and district energy. This in turn will lower carbon emissions, reduce energy costs and air pollution, and create local jobs. Delivering on the three percent target would bring household energy savings of USD 500 billion per year by 2040.
Climate Suit against Top 5 Carbon Emitting Countries
On a more individual level, Greta Thunberg and 15 other young people have filed a complaint against world's top 5 major carbon polluters on the grounds that they are violating their rights as children. Now the onus of the complaint lies with United nations whether to classify climate crisis as children's right crisis or not.
On any level, this will be the world's first suit in which children have targeted countries for climate emergency which has the potential to compel Argentina, Brazil, France, Germany, and Turkey—the five countries named in the suit—to work with other nations to forge binding emissions' reduction targets as the media glare increases.
The suit has been filed on behalf of the youth by the international law firm Hausfeld, which contends that world governments are violating children's rights under the UN Convention on the Rights of the Child.
(Visited 148 times, 1 visits today)