China's Great Wall Motors Unveils World's Cheapest Electric Car ORA R1
Claiming to catalyze a 'new generation of electric cars', China's Great Wall Motor debuts the ORA R1 from their newly created EV-subsidiary.
China's largest maker of sports utility vehicles, Great Wall Motors is launching a new flagship vehicle under its new electric car brand ORA. The car is called ORA R1. The mini cooper look-alike will be priced between the range of $ 8,680 to $11,293 after incentives, making it effectively one of the world's cheapest cars with these specs.  The Mahindra E20 is cheaper, but well behind on range and other features.  According to the carmaker, the ORA R1 will have 200 Miles range too. The ORA R1 focuses on delivering five core principles: high value, large space, smarter, safer and higher quality. With a size of 3495 x 1660 x 1560mm, the spacious car also offers security with a body made from more than 60% of high-strength steel.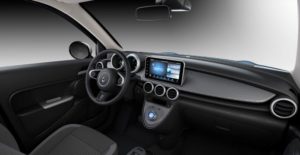 The design itself is simple and is based on a concept vehicle unveiled earlier last year– highlighted immediately with its big eye headlights. ORA R1 is equipped with a 33 kWh battery pack however Great Wall Motor is using the NEDC standard and therefore, the actual real-world range is expected to be closer to 150 miles.
There is a hitch with it being equipped with only a 35 kW electric motor, which is small even for a vehicle of that size. It can be expected to limit the top speed of the ORA R1 to about 100 km/h (~62 mph) which should be fine for its stated urban purpose and the occasional highway entrance.
Ning Shuyong, general manager of ORA and vice president of Great Wall Motor, said about the launch of the ORA R1,"As a new market entrant, ORA R1 delivers an unprecedented experience to drivers. ORA replaces the traditional sales, service, spare parts and surveys (4S) dealership-centered model that is common in China with a network consisting of ORA Home, experience centers and smart outlets in the central business districts of Chinese cities. In addition, the big data cloud that is created as the result of the information collected from the ORA app, the ORA shopping site and the Tmall e-shop opens the way to the development of multiple scenarios for offline sales and services as well as new transportation services for both drivers and passengers."
ORA R1 comes equipped with an artificial intelligence system that can be woken up by simply saying, 'hello, ORA'. The car is available in 5 color models to fit individual needs: titanium white, cadet blue, sky blue, combination titanium white and glitter black, and combination cadet blue and titanium white.
The vehicle is going for sale only in China right now but the company, Great Wall Motors, may soon bring its new ORA electric brand to the rest of the world.
(Visited 1,083 times, 1 visits today)