In the US Clean Energy Jobs Now Outnumber Fossil Fuel Jobs 3 to 1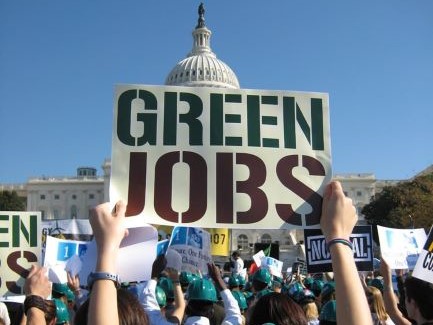 US clean energy jobs grew 3.6 percent in 2018, outnumbering fossil fuel jobs by 3-to-1 says E2 Analysis released this month
The latest analysis that came from nonpartisan business group E2, shows that almost all states in US saw an increase in clean energy jobs in 2018, combining to add about 110,000 net new jobs for a growth rate of 3.6 percent.
Despite the Trump administration's Tariff on Solar panels and market uncertainty from the administration's inaction and planned rollbacks of energy efficiency and clean vehicles policies, overall clean energy jobs rose to more than 3.26 million at the end of 2018.
Clean jobs outnumber fossil fuels jobs nearly 3 to 1 (3.26M to 1.17M) and clean energy employers said they anticipate 6 percent job growth for 2019.
E2 groups clean energy jobs into seven categories, with the total job count listed at the end:
Energy Efficiency – 2,324,865 jobs
Renewable Energy – 508,484 jobs
Solar Energy – 334,992 jobs
Wind Energy – 111,166 jobs
Clean Vehicle – 253,599 jobs
Clean Storage – 74,569 jobs
Grid Modernization – 64,377 jobs
ALL US Clean Energy Sectors – 3,264,383 jobs
E2 added that the biggest growth came from two categories-Clean Vehicles and Clean Storage categories:
"Driven by growing consumer demand, the number of jobs in clean vehicles manufacturing increased by 16 percent. About 254,000 Americans now work at companies building hybrid, electric and other clean vehicles, while another 486,000 Americans work in companies that manufacture parts that make vehicles more efficient.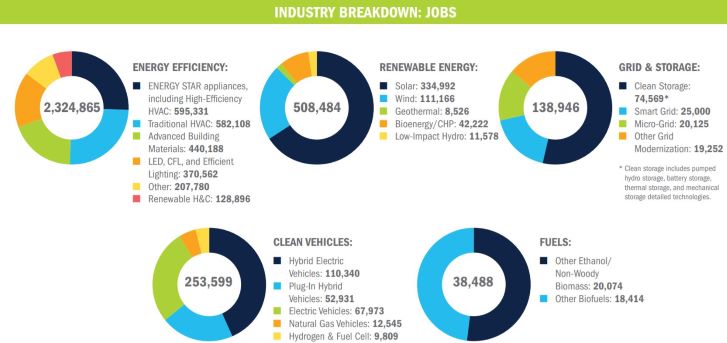 Energy storage saw a 14 percent increase in jobs as utilities, businesses and consumers deployed more batteries in EVs and with solar and wind installations, while grid modernization jobs grew by 3.3 percent."
E2 notes its number for clean vehicles doesn't include those 486,000 Americans who "work in companies that manufacture parts that make vehicles more efficient". However it does say that its broad "energy efficiency" category includes not just construction workers, but those who work on ENERGY STAR appliances, HVAC, advanced building materials, efficient lighting, and more.
The group projects the U.S. will again become the world's largest storage market, due to state incentives, residential solar storage, and increased market certainty in utility-scale storage. E2 also believes lithium-ion battery installations will increase 800 percent from 2018 to 2022, powered by increasing EV adoption and home installations. The top ten states for clean energy jobs are listed below:
E2 points in its analysis that the solar industry now employs more than double the amount of coal workers in the U.S. It added though Solar jobs declined last year, but almost everyone in the industry expects a rebound this year. Wind and solar now account for almost two out of every five construction jobs in electric generation.
There are now 10 states which generate more than 20 percent of their electricity from wind and solar: Kansas, Iowa, Oklahoma, North Dakota, South Dakota, Vermont, California, Maine, Colorado, and Minnesota. The combined capacity of wind and solar in the U.S. reached 156 GW in 2018.
To Read more about E2 Report click here.
For India, where solar capacity has become the largest contributor to new electricity capacity for two quarters or more now,  the situation is the same, with almost all new jobs in energy coming up in renewables.
(Visited 185 times, 1 visits today)