UN HQ Gets Solar Panels as Goodwill Gift From India
The UN Building in New York will now be powered by solar panels, given as a goodwill gesture by India to promote clean and renewable energy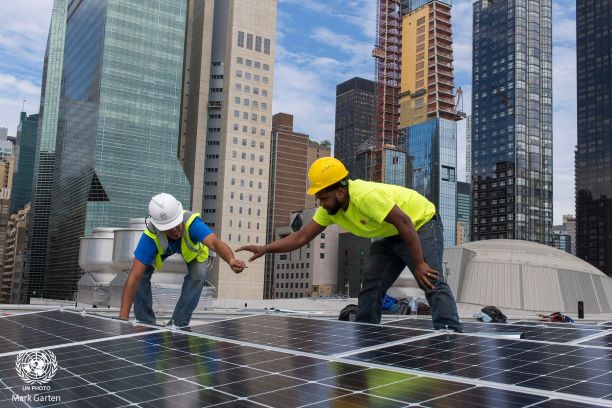 The UN Head Quarters and office in the New York will now be powered by Solar Panels. These installed panels on the roof of the building are a gift from India which could generate clean solar power up to 50 Kilowatt (KW).
In a tweet, UN office mentioned the gesture and added that there is a green roof too that would help the humanitarian body lower its power consumption in cooling the HQ.
Another tweet by Shobha Karandlaje revealed that the panels were $1Million dollars worth. The UN headquarters faces the East River, and it is located between the iconic Secretariate Building and the General Assembly Building of the UN. This follows after India's permanent representative to the UN Ambassador Syed Akbaruddin, last September, announced that the country will fund the solar project at the UN headquarters to reduce the carbon footprint and at the same time promote clean energy generation.
After this António Guterres, Secretary-General of the United Nations expressed his appreciation and tweeted—"Climate Action begins at home. I thank the Indian government and people for their generous contribution to solar panels and a green roof at UN headquarters in New York".
The UN has started to choose renewable energy for its operation elsewhere too. On August 1, UN house in Tanzania installed solar panels to produce 187 MWh of solar energy every year. According to an official in Tanzania, this will help them save 70% on power and has almost 696 solar panels.
In April UN House in Georgia also went green. About 36 solar panels were installed on the roof of the building to produce 16,000 kilowatt-hours of electricity per year, reducing energy use by 20%.
With Climate change in the news after the recent Amazon and Serbian wildfires, the call for adoption of sustainable means to live has touched a chord with people all over the world. While governments and officials chalk out plans on their levels, people have too been opting to change their ways. According to IEA, the world will add 70,000 solar panels every hour in the next 5 years and with the falling costs, solar energy may well see increase in uptake.
(Visited 212 times, 1 visits today)