REI 2019: Spowdi Unveils Ingenious Zero-Emission Water Distribution System
Sweden-based tech startup Spowdi has unveiled its zero-emission water distribution system, the Spowdi 1.0, at the ongoing REI Expo 2019.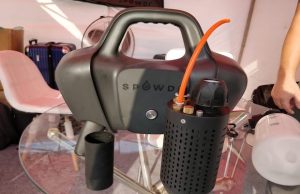 Sweden-based tech startup Spowdi has unveiled its creation, the zero-emission water distribution system the Spowdi 1.0, at the ongoing Renewable Energy India (REI) Expo 2019.
The system consists of a Power Management Box (PMB), which is the heart of the system. It generates compressed air that is fed to the pump. The pump which is rated at just 0.1 HP (70 W) is ultra-light but capable of pumping up to 25,000 liters of water on a sunny day.
Ideally suited for use on farms for ergonomically distributing water without any wastage, the system can be completely powered by solar panels (150 W) that are sold as accessories in the system. The firm claims that only one small foldable solar panel is required for the Spowdi system for up to 10 hours of operation per day.
The system can also be used for domestic use, with the pump capable of lifting water to a height of 10 meters with comparative ease. At a height of one meter, the system can pump close to 2500 liters every hour.
The system comes as an intuitively designed unit which makes its installation and implementation very easy. Requiring only one simple installation, it is very easy to operate and to maintain.
Product Benefits:
When used with the solar panels, the system has a zero operational cost.

The maintenance costs are also very low compared to alternative solutions.

The system which makes use of compressed air for driving the pumping system has been guaranteed a long product lifetime.

The company claims to have a system in operation at its manufacturing and testing facility in Taiwan, which has been in continuous operation for just over 2 years and is performing at normal levels.

Does not break down when the pump is dry. Functional even if mud, gravel or other particles run through the system.

Operable in high temperatures & dusty conditions.

Saves approximately 80 percent of water used for irrigation

Low energy consumption (12-volt max 70 watts), operable by a small solar panel.
Thanks to its Memorandum of Understanding (MoU) signed last year with Bengaluru-based EMMVEE Photovoltaic Power, the company is also manufacturing all its units now in India, to adhere to the "Make in India" scheme that is often preferred in central tenders. Providing, an efficient, compact and economical solution perhaps for the MNRE's KUSUM scheme, which could also mean subsidies for buyers.
The full unit, including the submersible pump, 150 W foldable solar panel, and the PMB will retail for Rs 47,000 (+GST).
Source: SaurEnergy
(Visited 308 times, 1 visits today)