REI 2019: Session on Startups – Innovation in Manufacturing Needed
At the ongoing Renewable Energy Exposition 2019, a session on the role of startups in the RE space highlighted that the innovation aimed at solving consumer and business problems are key to its future growth.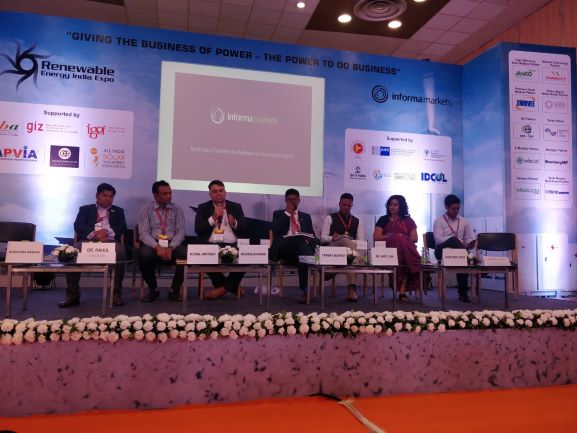 The first day of the Renewable Energy Exposition (REI 2019) saw the convergence of financiers, startup heads and think tanks discuss why startups need to change their role in the ever-changing renewable energy sector.
The session was moderated by Tanmay Bishnoi, Head – Standards and research at the Skill Council for Green Jobs and the speakers were:
Ronnie Khanna, Senior Energy Sector Specialist, KfW
Amit Jain, Senior Energy Specialist, The World Bank Group
Rahul Walawalkar Debi Dash, President, IESA and Chair, Global Energy Storage Alliance
Kunal Amitabh, VP, Boond Solar, New Delhi
Madhura Joshi, Lead Energy Access and Climate Policy Consultant, Natural Resources Defense Council (NRDC)
Neeraj Kuldeep, Programme Lead, CEEW
The discussion began with Ronnie Khanna, Senior Energy Sector Specialist, KfW who spoke about the thinking pattern of bankers when they look at startups and weigh in if they will be successful or not. "I look at the risk and whether I can mitigate those risks." He added that bankers, as they are risk-averse, look for what part of the solution are the startups working on and then they decide what kind to finance will work. He then exemplified by saying that KfW is working on a newer concept. "We are now working on super aggregators." This is to help join players small or big through its network which will work on a national level. He discussed the need to change the way startups look at business models, the need to tweak or modify the business models that can open new segments for business as older strata saturates, like "a business model based on AP Discom, where the users who use less than 200 units of energy are provided solar energy. The government gave them a 50 percent subsidy for solar and worked its way around reducing the cost further in leftover half."
He concluded by saying that "in solar rooftop, the innovations will now focus on risk mitigation and no more on costs."
Dr Amit Jain from the World Bank spoke about access to finance and challenges. He remained pessimistic for startups in India. "For solar rooftop, the lack of startups have been slowing rooftop solar to take off. Startups like Amplus have risen from startup level to mid-cap companies after raising debt and capital. Cleantech sold equity only after showing their pipelines of future projects," he said.
He then spoke about why investors have been wary of investing in startups. "For the startups valuing ($5M-25M), private financiers seek 25 percent return but the caps set by SECI and NTPC will only augur 15 percent." He did add that institutional funds like the "World Bank and others can step up." For the way forward, he said sovereign funds like IRENA backed Abu Dhabi fund can help and others like Pfan, that connects investors with projects to raise VC (venture capital), also present a good opportunity. Another worry for investors is an off-taker risk. "India currently has 40 GW of PPAs out of which 20 GW spread among 240 projects are delayed due to off-taker risk as Discom are yet to pay power producer."
To present a startup's point of view, Amitabh of Boond spoke about the evolution of business from providing just energy to integrating other services like refrigeration units or help marketing services integrate into the grid.
Madhura of NRDC presented case studies like the salt farmers of Gujarat who have shifted from diesel gensets to solar hybrid gensets and discussed the scalability of such pilots. She pointed out that these projects were designed to solve people's and their businesses' problems. Madura said that the salt farmers in Gujarat have no money to invest in anything else than just fuel. The enabling and training of women have increased their income and businesses.
Neeraj Kuldeep of CEEW said that there is vast opportunity for startups in this sector. "$50 billion worth of opportunities are there in DRE (Destruction and Removal Efficiency) and it's market potential. Startups in rooftop solar also have untapped potential. We have to develop skilled labor to make the startups flourish, which will open a new space for training centers in RE sector," he said.
The session revolved around the opportunities that can be or would be targeted. The moderator, as well as the speakers, agreed that finance remains a problem for startups. Dr Rahul Debi Dash of Global Energy Storage Alliance shared some uncomfortable insights. "Innovation is lacking in startups in the solar industry. This is why their business is not sustainable. The funding is not just the problem, but we need to make the products and improve the quality, for example, newer and disruptive technologies for setups like microgrid. We need to work in different types of technologies like not just Lithium but others like iron and etc," he said.
He discussed why scalability is limited as the players have stopped introducing products that could solve consumers or their businesses' problems. Almost all the companies are now playing on cost margins on the same products, which has discouraged the investors and the consumers to take up renewable energy like rooftop solar. "The product should not be subsidy based or incentive-based. The business needs to focus on business issues else we cant compete in economies of scale like the way our neighbour (China) can. Manufacturing side demand has been ignored in solar which needs innovation and here startups can make a difference," he concluded.
The session successfully highlighted the three factors Finance, Innovation, and Scalability, which should be kept in mind for the next-gen of startups of India.
(Visited 265 times, 1 visits today)