World Water Day: UN Report on Water 2019 'Leaving No One Behind'
Today on the World Water Day, we take a closer look into the UN's World Water Development Report 2019: 'Leaving no one behind'
Almost a decade ago, The United Nations General Assembly adopted a resolution recognizing "the right to safe and clean drinking water and sanitation as a human right" and in 2015, it became Sustainable Development Goal 6 of the 2030 Agenda for Sustainable Development which aims to guarantee sustainable management of, and access to, water and sanitation for all by 2030.
Yet, despite significant progress over the past 15 years, three in ten people (2.1 billion) do not have access to safe drinking water and 4.5 billion people, or six in ten, had no safely managed sanitation facilities. The world is still off track in achieving this important goal.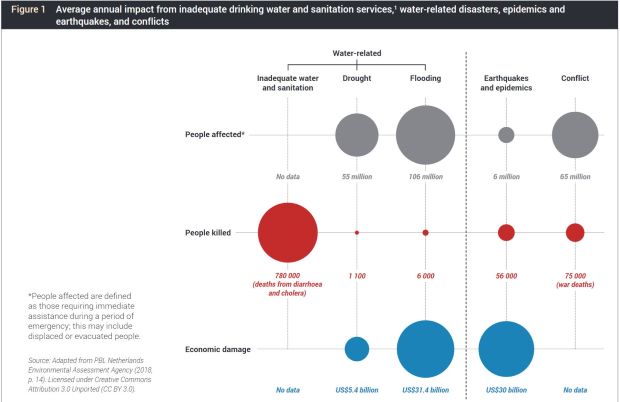 "Access to water is a vital right for the dignity of every human being," declared UNESCO Director-General Audrey Azoulay. "Yet, billions of people are still deprived of this right. The new edition of the UN World Water Development Report shows that collective determination to move forward and efforts to include those who have been left behind in the decision making process could make this right a reality."
The latest United Nations World Water Development Report, Leaving No One Behind, explores the symptoms of exclusion and investigates ways to overcome inequalities. "The numbers speak for themselves. As the Report shows, if the degradation of the natural environment and the unsustainable pressure on global water resources continue at current rates, 45% of global Gross Domestic Product and 40% of global grain production will be at risk by 2050. Poor and marginalized populations will be disproportionately affected, further exacerbating already rising inequalities […] The 2019 Report provides evidence of the need to adapt approaches, in both policy and practice, to address the causes of exclusion and inequality," said Gilbert F. Houngbo, Chair of UN-Water and President of the International Fund for Agricultural Development.
These figures hide significant disparities. On a global scale, half of the people who drink water from unsafe sources live in Africa. In Sub-Saharan Africa, only 24% of the population have access to safe drinking water, and 28% have basic sanitation facilities that are not shared with other households.
Moreover, an annual average of 25.3 million people are forced to migrate because of natural disasters, twice as many as in the early 1970s – a number expected to raise further due to climate change.
Highlights:
Water use has been increasing worldwide by about 1% per year since the 1980s. This steady rise has principally been led by surging demand in developing countries and emerging economies.
Global water demand is expected to continue increasing at a similar rate until 2050.
Over 2 billion people live in countries experiencing high water stress. Although the global average water stress is only 11%, 31 countries experience water stress between 25% (which is defined as the minimum threshold of water stress) and 70%, and 22 countries are above 70% and are therefore under serious water stress.
Estimates suggest that if the degradation of the natural environment and the unsustainable pressures on global water resources continue, 45% of the global gross domestic product (GDP), 52% of the world's population and 40% of global grain production will be at risk by 2050.
Several water-related diseases, including cholera and schistosomiasis, remain widespread across many developing countries.
Nutrient loadings remain one of the most prevalent forms of water pollution and the majority of nutrient emissions originate from agriculture.
About 90% of all natural disasters are water-related. Climate change is expected to increase the frequency and magnitude of extreme weather events.
The concept of 'war over water' combined with the fact that there are 286 international rivers and 592 transboundary aquifers shared by 153 countries it could be expected that water-related conflicts will rise- 94 from 2000 to 2009, 263 from 2010 to 2018.
The number of chronically undernourished people on the planet increased from 777 million in 2015 to 815 million in 2016.
Globally, 155 million children under five years of age suffer from stunted growth.
The Report makes a startling revelation about the gender disparity, Women are slightly more likely to be food insecure than men in every region of the world whether it is developed or developing side of the world.
The Report in its conclusion says, "The links between water and broader decisions regarding food and energy security, humanitarian crises, economic development, and environmental sustainability often remain unrecognized or poorly understood. Yet, in an increasingly globalized world, the impacts of water-related decisions cross borders and affect everyone."
It suggests Inclusive policies to achieve Sustainable Development Goal 6. They are also needed to defuse conflicts between different water users. The Report demonstrates that investing in water supply and sanitation makes good economic sense. The return on investment is high in general and for the vulnerable and disadvantaged in particular, especially when broader benefits such as health and productivity are taken into account. The multiplier for the return on investment has been globally estimated at 2 for drinking water and 5.5 for sanitation.
(Visited 204 times, 1 visits today)