The Signs from 2019. Your Choices, Our learnings
As we wrap up 2019 , we try to see how your interest in the content we produced could be an early indicator of the times to come. In focus- EV's, Responsible Fashion, Rooftop Solar and Waste Management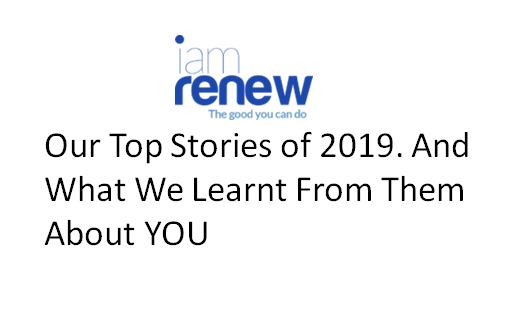 The Top Stories Of Iamrenew in 2019
A friend with over 25 years experience reporting on the Indian economy had this to say about predictions in India.  "Never believe anything the pundits say, because most predictions have no basis in data and where they do have data, it is suspect". That learned friend will remain anonymous, but we do plan to open up our database to bring you just what stories did well, individually and as a cluster, pointing perhaps to a stronger interest in these areas. The numbers are quite surprising, as are some of the issues we managed to identify. So here goes.
Number One, by a wide margin, is Electric Vehicles (EV's). Whether it was a story on state policies towards electric vehicles, probable tariffs for electric vehicle charging points, or new product launches, stories around the EV sector did much better than average. In fact, looking at the strong interest we saw even in terms of queries on social media, we can confidently say that there is a strong undercurrent of interest in EV's in India today, including entrepreneurial interest in areas like charging stations and the like.
Following closely behind EV's as a category was our coverage of India's renewable targets, especially solar. Within solar again, solar rooftop seems to have generated strong interest, so at least reader would seem to indicate a bright future for the same. With solar prices close to an all time low, and quality a huge jump over that in say, 2015, it seems safe to say that renewable energy in general, and solar rooftop deserves a much higher billing than it gets from the government. Even articles on solar technology developments
Waste management, be it stories on startups in the space, or the efforts by cities to do it better, is another area where we have seen strong reader interest.
Water, and everything around it, is an area that got our readers talking, and clearly is a heading to be a hot button issue for the future too. We will continue to focus on our coverage here, as we agree with your pointers, that this is an area that deserves more attention. And it wasn't the Ganga that brought in interest. Interest has been strong right across, from the Ganga to the Cauvery and even the large dams that seem to be approaching the end of their useful life in some cases.
Finally, a one off article we did on the fashion industry did remarkably well too, generating over 15,000 views. Perhaps it found a relevant group, or perhaps its not so surprising after all, as another article done in 2018 had also performed very well. So perhaps, there is something more than just curiousity in the strong interest in fashion:).
Coverage of strongly emotive issues like tree felling in Delhi in 2018, or the Aarey forest in Mumbai in 2019, got their share of interest, both on the site, and on social media .  We believe these issues will continue to grow and need deeper coverage, not just because these are deeply important for us all, but also because of the need to bring a balanced perspective on these.
So there you have it. Some of the biggest trends and pointers we could spot from your time spent with us in 2019. Electric Vehicles and Solar Rooftops clearly demonstrate how evolution of a sector matters, before mass adoption possibly.
Waste and Water shows us the relevance of a healthy local environment to readers now, and how people are looking for ways toplay a more active role. Add to that deeply personal choices like your fashion picks, and how sustainable those are, and we have a gratifying picture of increasing awareness and sensibility on personal choices today.
That issues like global warming, climate change did not figure in the top 5 clusters is perhaps no surprise, as mainstream media as well as conversations haven't really included these as critical for India yet. Whatever the real truth might be. Or perhaps for a country grappling with no shortage of local emergencies on the air, water and even weather front, perhaps global impact was the lwast of our concerns. Irrespective, the story needs to be told we believe, for the local implications it has. And the learnings we can take from other countries, involved more deeply in the battle.
We wish you a 2020 full of prosperity,  a healthier environment, and the satisfaction of making your own contribution to achieving it, however small it is. To that end, we will continue to look for ways to help you in that journey, and wish you well.
(Visited 197 times, 1 visits today)