Ashden Awards Recognise Efforts of Trailblazers in Climate Change
Ashden Award winners – all recognised for their trailblazing work as low carbon innovators. 
Ashden Awards 2023
Organisations tackling the UK cost of living crisis, providing the skills for green jobs and those calling for finance for countries in the global South to adapt to climate change were recognised at this year's Ashden Awards. 
The Winners
Three UK winners were among eight from around the world who collected their awards in front of a packed audience at the Royal Geographical Society in London. The event was hosted by broadcast meteorologist, Laura Tobin.
Musician, producer and climate action advocate Brian Eno took part in an on-stage conversation with Ashden's CEO Harriet Lamb. He talked about finding new ways to fight climate change and founding EarthPercent which encourages people in the music industry to donate to climate change organisations. Amongst those collecting awards were Vectar Sets who won in the Greening All Work category. They manufacture reusable and recyclable cardboard sets for the film and TV industry, including Coronation Street who are trialling the sets, slashing emissions and cutting waste.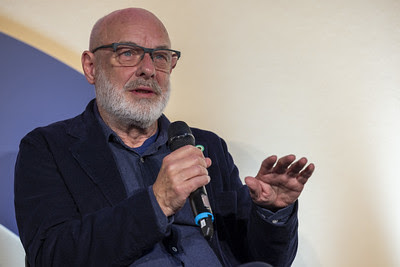 Keynote speaker musician and climate action advocate Brian Eno 
Energy innovation winner Renewable Parts Ltd are the first business in the global wind turbine industry to refurbish components so they can be used again. Based in Argyll, Scotland, they are decarbonising the supply chain and have stopped over 100 tonnes of waste going to scrap.
Winners in the Low Carbon Skills category, B4Box provide retrofit training to disadvantaged people, upgrading homes so they are more energy-efficient, produce less emissions and are less costly to heat in a part of Manchester badly affected by fuel poverty.
Alongside prize money that supports their vital work, Ashden uses its global network to raise awareness of their innovative solutions and brokers connections with funders, investors, policymakers and others.
Harriet Lamb, Ashden CEO, said, "The Ashden Awards celebrate and provide a global platform for all these amazing global climate champions who are rolling up their sleeves and getting the job done. They all offer scalable climate solutions that showcase effective ways we can make homes warmer, reduce energy bills, create green jobs, slash emissions and deliver hope of a brighter future for those most in need."
Runners up in the UK included Oxfordshire's FarmEd who are shaping the future of the UK's agricultural sector by raising awareness of regenerative farming that enriches the soil whilst removing CO2 from the atmosphere. Greater Manchester's Low Carbon Academy provide local people with the green skills and a range of qualifications needed to retrofit homes and carry out other energy efficiency measures. And in the north and east of England, Connected Energy are the only organisation in the UK to repurpose second-life electric vehicle batteries for use in commercial scale energy storage projects.
Internationally, Kakuma Ventures won the Energising Refugee Livelihoods award for providing internet access to people in a Kenyan refugee camp using solar power, creating jobs and boosting education. In the Energising Agriculture category, SokoFresh were rewarded for their work helping farmers reduce post-harvest losses through solar powered cold storage and market linkages.
For improving energy access and develop skills, Togo'sEnergy Generation and Zimbabwe's Zonful Energy, were declared joint winners in the Energy Access Skills category.
Harriet Lamb added, "All our worthy winners show how a zero carbon world is within reach but to reach it in time, and create the just transition that really delivers, we need to see commitments from world leaders at the upcoming COP27 in Egypt."
He further stated, "Funding from the global North to finance the affordable, green energy access for those threatened by the climate crisis must be high on the agenda at this African COP. This is the message we'll be taking to world leaders as part of our Power Up coalition campaign."
Power Up is a unifying campaign boosting African efforts to seek greater climate adaptation funding from the Global North to finance affordable, green energy access for those threatened by the climate crisis.
Based in London, Ashden is a charity working in the field of sustainable energy and development. Its work entails the yearly Ashden Awards, advocacy and research in sustainable energy, and mentoring and providing practical support for award winners.
(Visited 104 times, 1 visits today)