As Tech Firms Go Green Atlassian Goes For A Hybrid Timber HQ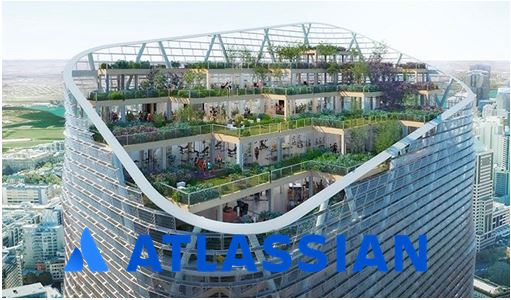 Atlassian, the Sydney based software major has opted for a Headquarters building that seeks to have 50 percent less embodied carbon than conventional buildings during construction.
Some of the most ambitious pledges to go green have been led by cash rich tech majors, Be it Google, Facebook, Microsoft , or even homegrown Infosys in India. Now Atlassian, the Australian software major, which has an existing pledge to shift to shift 100 percent to renewable energy and zero carbon emissions by 2050, has gone for a rather unconventional approach.
Atlassian plans to build the world's tallest hybrid timber tower for its new headquarters  in Sydney's Central Business District (CBD).  The building will use mass timber construction methods to offer a substantial reduction in the project's carbon footprint. It will also operate on 100% renewable energy from day one of operation with solar panels built into its façade. Once complete in 2025, it will accommodate up to 4000 Atlassian staff,  besides other tenants on some floors.
The 40-storey building is planned to be the highlight of the state government-planned tech hub.
The tower's steel exoskeleton plan to have an electricity-generating façade system with self-shade capabilities to reduce direct heat gain. This, combined with the use of mass timber, will enable the project to  leverage Sydney's temperate climate to help reduce carbon emissions and generate on-site energy.  There will be a staggered outdoor garden as well as self-shading to control temperatures.
Wile releasing designs for the building late in June, Atlassiancalled it the "tallest commercial hybrid timber" building in the world at 180 metres high, and featuring a mix of outdoor and indoor areas.
Atlassian co-founder Scott Farquhar, when asked about the impact of the new trend of work from home on such ambitious headquarters buildings,  said he was taking a "long-term view" and believed even a company with a highly distributed workforce needed people to come together regularly.
"Buildings have to be a place where they attract your employees to come in, and do their best work, [and] it's a billboard to future employees," he said. "We have an opportunity to be maybe the first building in Sydney built for a distributed workforce in a new way."
New York architects firm SHoP is  designing the tower in partnership with Australian firm BVN.
Atlassian's head of global workplace experience, Scott Hazard, said sustainability was a key focus for the tower, which would be built to last 100 years. "Cross-laminated timber is an incredibly green material, and it helps us avoid massive amounts of concrete and steel," he said.
Readers might be surprised at the move to see timber based buildings back in vogue, but these have in fact, been making a sort of comeback worldwide, especially in more temperate regions, where  the pressure on forests has abated somewhat, and supply of wood is no longer an issue. With its embedded carbon 'capture', timber has become a material that can really buff up green credentials therefore .
(Visited 435 times, 1 visits today)