Google Announces 18 RE Deals in Its 'Biggest Corporate Renewable Purchase'
With these deals, Google will increase the company's overall portfolio of solar and wind agreements by more than 40 percent to 5,500 MW.
Technology giant Google announced the "biggest corporate purchase of renewable energy in history" according to a post published on its blog. The deal includes 18 new energy deals for 1600 MW in agreements.
According to Google, which also released its 2019 environmental report, these deals will increase the company's overall portfolio of solar and wind agreements by more than 40 percent to 5,500 MW, which is equivalent to the capacity of a million solar rooftops.
An interesting fact that emerged is Google, in these long-term purchase commitments, wants the creation of new solar and wind projects unlike buying RE from existing renewable facilities. These 18 deals will see over USD 2 billion in new energy infrastructure spread across the United States, Europe, and Chile.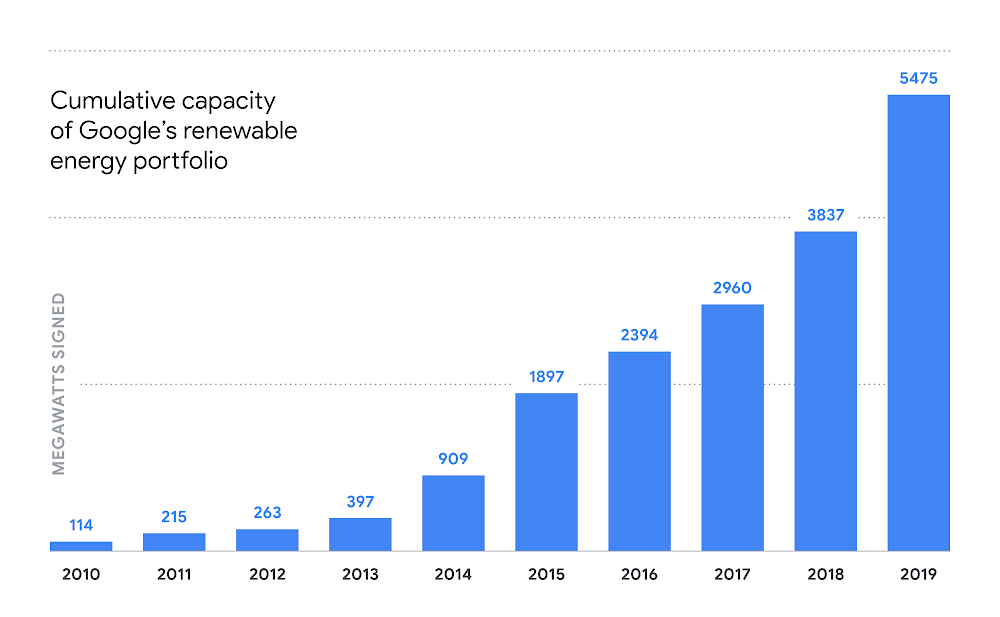 "Our latest agreements will also spur the construction of more than USD 2 billion in new energy infrastructure, including millions of solar panels and hundreds of wind turbines spread across three continents. In all, our renewable energy fleet now stands at 52 projects, driving more than USD 7 billion in new construction and thousands of related jobs," said Sunder Pichai, CEO of Google, in his post.
The new deals will include the purchase of energy from 720 MW of solar farms in North Carolina (155 MW), South Carolina (75 MW), and Texas (490 MW). In South America, a new 125 MW of renewable energy capacity to the grid will supply the Google data center in Chile. Finally, almost half (793 MW) of the new renewable energy capacity purchased will be located in Europe, in Finland (255 MW), Sweden (286 MW), Belgium (92 MW), and Denmark (160 MW).
This marked a shift away from the existing US projects which were "wind-driven," and opting for more solar as it has become "increasingly cost-effective" due to price decreasing by more than 80% in the past decade. Another new addition is the company's first "hybrid technology deal that combines solar and wind."
Google claims that in 2018, it achieved twelve consecutive years of carbon neutrality and, for the second year in a row matched 100 percent of the electricity consumption of its global operations with renewable energy. By the end of 2018, Google had contracts to purchase more than 3.75 gigawatts (GW) of output from renewable energy projects. These contracts have led to nearly USD 5 billion in new capital investment in projects around the world.
(Visited 198 times, 1 visits today)