Infosys buffs its green reputation. Gets 43% of Its Power From Renewables now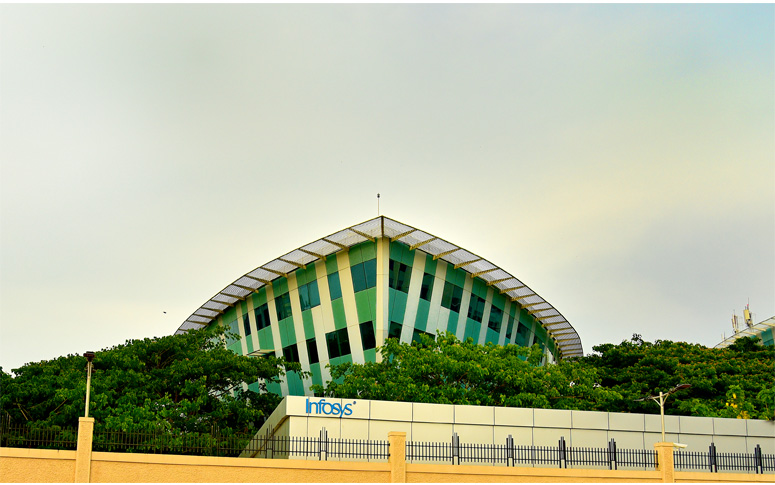 Infosys just released its sustainability report for 2017-18 where it claims to be meeting 43% of its electricity requirement through renewables, that's more than a 100 million units being sourced from renewable sources. Infosys of course has had a long history of being a pioneer of sorts when it comes to being a responsible corporate citizen, and it can be hoped that these moves will drive others to make stronger commitments and action on the ground too.
The Bengaluru based company currently has an installed capacity of 46.1MW of solar energy across the country. During fiscal 2017-28, 109.7 million units of overall energy requirement came from green power, out of which, 22.8 million units of electricity was produced from solar panels installed at their campus.
"In 2017-18, we have installed 1 MW capacity of rooftop solar in Pune, Chennai and Hyderabad, and a 30 MW solar farm in Sira in Karnataka," stated the report.
The company is in the process of adding another 12 MW off-site solar power plant in Karnataka and around 7 MW of on-site solar plants in its Hyderabad, Bengaluru, Mangaluru, Mysuru, Thiruvananthapuram and Chandigarh campuses.
Infosys is no stranger to green energy, in 2015 it joined the RE100, a global platform where companies pledge to go 100% renewable in accordance to the Paris Agreement. IKEA and Nestle are two of the companies that are a part of this. Besides Infosys, Dalmia Bharat Cement and Tata Motors are the only Indian firms that are part of the list currently. The firm has also pledged to make its campuses non recylaclable plastics free by 2020, and reduce overall plastic wastage by 50% per capita  in the same time frame.
"We are committed to a strategy to use renewable energy on our campuses. We are also a signatory to the global RE100 initiative. Our efforts included aggressive targets to reduce consumption and switch to renewable energy resources for our business operations," noted the report.
Infosys of course has collected its fair share of awards and recognition, from the Best Climate Change Program at the Green world Awards, the Global Green Future Leadership Awards 2017. A building at its Bengaluru campus was inducted into the ACREX hall of fame under the best energy efficient building category.  The IGBC, or Indian Green Building Council has also recognised the firm for its commitment and multiple certified green buildings across its campuses. The firm has the world's largest LEED certified green building campus.
The move highlights the growing concern shown by big corporations towards the environment. Nowadays companies are investing in making themselves more and more green as well as investing in long-term environmental projects as a part of their CSR work.
By Manas Pandit
click on Indigo and Maruti Suzuki to read about their CSR initiatives.
copyright:iamrenew.com
(Visited 229 times, 1 visits today)