School in Brazilian Forest Conferred 'World's Best New Building' Award
Nestled along the edge of the rainforest in northern Brazil, a newly built school complex received the esteemed RIBA International Prize for 2018 as the World's Best New Building.
The prestigious prize, The Royal Institute of British Architects (RIBA) is awarded every two years, and rewards the most inspirational and significant new buildings across the globe and celebrates international architectural talent.
Children Village was chosen from a shortlist of four exceptional new buildings by a grand jury chaired by renowned architect Elizabeth Diller (DS+R).
Central European University (Phase 1), Budapest, by O'Donnell + Tuomey
Children Village, Brazil, by Aleph Zero + Rosenbaum
Toho Gakuen School of Music, Tokyo, by Nikken Sekkei
Il Bosco Verticale (Vertical Forest), Milan, by Boeri Studio
RIBA President Ben Derbyshire said," Whilst these four buildings are in different time zones and continents, like all great architecture they share common qualities, of particular note, is their sensitivity to their local environment and their responsiveness to the particular needs of the people that will use them. I am pleased that three of the four projects are education buildings, providing innovative and inspiring spaces for young people to live, learn and achieve their potential. The fourth scheme is a bold approach to the greening of high-density urban housing that is already inspiring other cities."
The Winner-Children Village, Brazil
Children Village, located in a rural area on the outskirts of the Amazon, provides boarding accommodation for 540 senior school children at the Canuanã School. Largely made from locally-sourced timber, the Brazilian architects exploited the abundant natural resources surrounding the site in an innovative way, thus promoting both economic and environmental sustainability.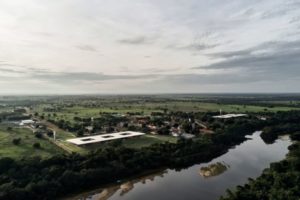 Gustavo Utrabo and Pedro Duschenes from Brazilian architecture practice Aleph Zero said: "To be recognized by one of the leading architectural associations in the world reveals the work's coherence and indicates that the issues raised, while deeply linked to the local situation, reverberate with a broad spectrum of current political, economic and social challenges."
Funded by the Bradesco Foundation, the roughly 25,000-square-meter Children Village is one of 40 schools in the area that provides education for children in rural communities across Brazil. the architects add that key to the design was creating an intimate environment that felt like a "home away from home." Instead of dormitories for 40 students, for instance, Children Village offers rooms for six children as well as a mix of private and public spaces that cater to study, play and relaxation. The school comprises two identical complexes: one for girls, one for boys.
The architects also drew from the local vernacular to mitigate the sweltering summertime temperatures in a cost-effective and sustainable way. For instance, the large canopy roof built from cross-laminated timber beams and columns allows for cooling cross-breezes as well as shade. Earth blocks handmade on site were also used for the walls and latticework.
In 2017, the RIBA award was given to a modern, carbon-neutral take on the traditional English country house in Kent. It was designed by James MacDonald Wright and Niall Maxwell, the rural dwelling called Caring Wood was praised for its eco-friendly and multigenerational design — properties that RIBA president Ben Derbyshire said will "influence UK housing for many years to come."
(Visited 860 times, 1 visits today)