25 Clean Air Measures to help 1 Billion Asians Breathe Clean, Safe Air
A new report funded by the Climate and Clean Air Coalition and the Asia Pacific Clean Air Coalition identifies 25 clean air measures that can positively impact human health, crop yields, climate change, and socio-economic development, as well as contribute to achieving the sustainable development goals.
Air pollution in the Asia Pacific region is not only a major health risk, but it also has damaging impacts on the environment and agricultural crop yields. These impacts have significant economic consequences, affecting economic growth as well as welfare. 3 key policy actions that are expected to have the biggest impact are controlling post-combustion emissions at power stations and industries, the implementation of strict emissions standards for vehicles and finally promotion of clean cooking measures, which is the number one cause for indoor air pollution led deaths.
According to the report, Air Pollution in Asia and the Pacific: Science-based Solutions, the impact of air pollution on human health constitutes a serious public health crisis across Asia and the Pacific. About 4 billion people, around 92 percent of the region's population, are exposed to levels of air pollution that pose a significant risk to their health (exposure to pollution levels in excess of the World Health Organization (WHO) Guideline for public health protection) and is associated with elevated risks of premature death and a wide range of illnesses. 
Reducing this health burden requires further action in Asia and the Pacific to reduce emissions that lead to the formation of fine particulate matter (PM2.5) and ground-level ozone, which undermine people's health and well-being as well as food production and the environment. Fortunately, governments in Asia and the Pacific have already adopted and implemented policies to reduce pollution levels. Without which the report predicts, that the population-weighted exposure to harmful PM2.5 would be expected to grow by more than 50 percent by 2030. The policies deliver significant benefits for air quality and health, however, they are not enough if the people of Asia and the Pacific are to enjoy air quality that conforms to the WHO Guideline.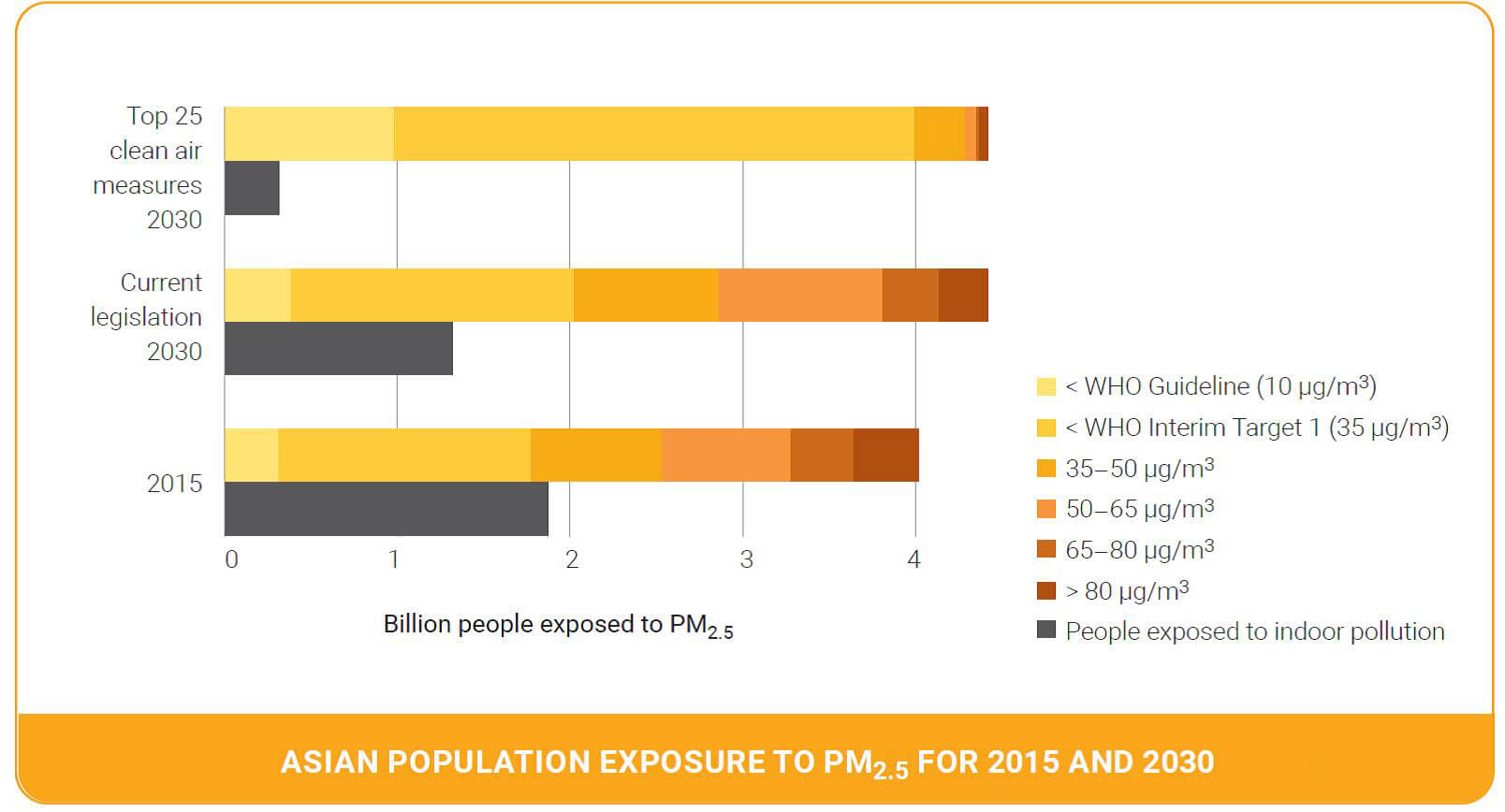 Existing policies can reduce pollution but are not enough to reach safe levels as continued economic growth and urbanization will worsen air pollution unless governments take further action. If current policies aimed at limiting emissions are effectively enforced, air pollution in 2030 will remain at 2015 levels, leaving over 4 billion people exposed to health-damaging levels of air pollution. Existing technology and policy solutions can bring clean air to 22% of the Asia Pacific population by 2030, but an additional 650,000 people in the region could enjoy clean air by 2030 if the 25 Clean Air Measures highlighted in the report are immediately implemented. 
Read: 90% of World's Children are Breathing Toxic Air every day: WHO
The report outlines 25 policy actions that could achieve safe air quality levels for 1 billion people by 2030, with numerous benefits for public health, economic development, and the climate. The analysis takes the region's considerable diversity into account and groups the selected measures into three categories:
Conventional emission controls focusing on emissions that lead to the formation of fine particulate matter (PM2.5).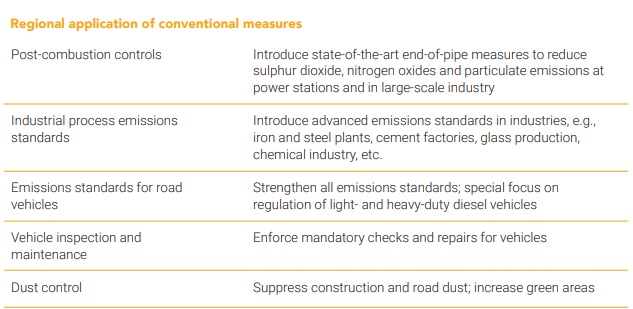 Further (next-stage) air-quality measures for reducing emissions that lead to the formation of PM2.5 and are not yet major components of clean air policies in many parts of the region. 
Measures contributing to development priority goals with benefits for air quality.
If implemented properly, the 25 measures are expected to have numerous benefits beyond improved air quality. 
The number of people exposed to pollution above the highest WHO Interim Target could fall by 80% to 430 million. Furthermore, premature mortality from outdoor air pollution could decline by about a third, and an additional 2 million premature deaths a year from indoor air pollution could be avoided.

A reduction in particulate emissions would slow the melting of glaciers and snowfields, reduce the risk of disasters related to glacier lake outburst floods, and help mitigate water insecurity for billions of people.

Ozone-induced crop losses could be reduced considerably – by 45% for maize, rice, soy, and wheat combined. The health of natural ecosystems would also improve.

Carbon dioxide emissions in 2030 could be reduced by almost 20% and methane by 45%. This would decrease the expected warming by a third of a degree Celsius by 2050 and would be a significant contribution to the Paris Agreement target of keeping global temperature rise this century well below 2ºC.
Erik Solheim, Head UN  Environment said, "The top 25 measures not only represent wins for cities and countries looking to improve air quality but also provide next-generation business opportunities and boost economic growth."
(Visited 324 times, 1 visits today)