Bihar's BERC Sets Solar PV Generic Tariff at ₹4.17/kWh
The Bihar Electricity Regulatory Commission (BERC) has fixed the generic levelized tariff for power generated from solar PV for FY 2018-19 at ₹4.17/kWh, the rates drop down to₹3.98/kWh with Accelerated Depreciation
The Bihar Electricity Regulatory Commission (BERC) has fixed the generic levelized tariff for power generated from solar PV for FY 2018-19 at ₹4.17/kWh, the rates drop down to₹3.98/kWh with Accelerated Depreciation. The generic levelized tariff is just ₹0.01/kWh more than the average power purchase cost for the state's DISCOMs during the current financial year.  The tariffs reflect the broader drop in rates in auctions across the country, as well as the rates in other states.
The commission passed the order during a recently held proceeding to determine the generic levelized tariff of renewable energy projects for the third control period of the financial year 2018-19. The generic levelized tariff from renewable energy (RE) sources will be applicable for the projects commissioned from the date of issue of the order until March 31, 2019, or until the next order. The tariff will be valid for 25 years from the commercial operation date (COD).
According to the order, the tariff of solar PV will decrease by 3.3 paisa/kWh for every 1 percent of capital subsidy obtained from the central or Bihar government.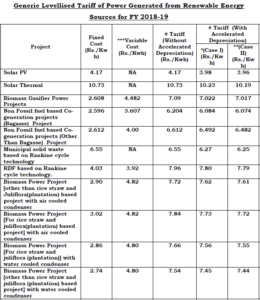 (BERC)
Earlier this year, the BERC fixed ₹4.16/kWh as the average power purchase cost (APPC) for the state's two DISCOMs, North Bihar Power Distribution Company Limited (NBPDCL) and South Bihar Power Distribution Company Limited (SBPDCL) for the financial year 2018-19.
The Central Electricity Regulatory Commission (CERC) recently issued a set of levelized generic tariffs for the purchase of electricity from a host of renewable power generation sources during FY 2018-19. After which the Tamil Nadu Electricity Regulatory Commission (TNERC) became the first state to fix the levelized generic tariff for solar procurement in the state. For the financial year of 2018-19, the state set a generalised tariff at ₹3.11/kWh without accelerated depreciation, which is comparatively much lower to the ₹4.17/kWh set in Bihar, largely due to the massive difference in installed and pipeline solar projects in the states.
Bihar's total solar installed capacity is just 110 MW without a currently active pipeline of projects. However, that has not stopped the board to continue to set generic tariff for solar thermal even though there no projects being developed using the technology.
(Visited 593 times, 1 visits today)