Innovation, Cooperation, and More at SECI's Pre-Bid Meet for 7.5GW Leh-Kargil Tender
At the pre-bid meeting called by SECI for the massive 7.5GW Leh-Kargil tender, interested bidders and a whole lot of other curious people turned up to know more.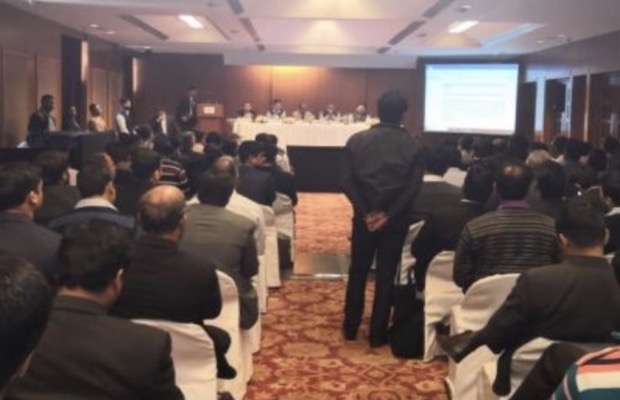 Pre-bid meetings for large projects are usually a place to get the nitty-gritty sorted and out of the way. Or in some cases, obvious mistakes or conditions corrected. But for India's largest-ever solar tender, the 7.5 GW Leh-Kargil tender, which has a deadline of April 30, 2019, for bid submissions, none of the old rules apply anymore.
Perhaps that was a given how this tender seeks to break the mould, when it comes to bidding for solar projects in India. The full house of close to 150 and more people was remarkably short of questions initially, as the SECI representative made the preliminary introductions and finally, the call for queries. Perhaps, everyone was waiting for someone to start, considering how fundamental the questions finally turned out to be.
Thus, be it the issue of the need to combine transmission with generation, or the terrain, the quality of roads, SECI, representatives had readymade answers or an exhortation to think different, brave, and finally, to look forward to the technical meet coming up soon. SECI was fronted ably by JS Swain, Managing Director, and SK Mishra, Director (PS), besides representatives from the Ladakh Autonomous Hill Development Councils, and Secretary, MNRE.
One of the biggest surprises in the tender, the matter of a 30% CUF (Capacity Utilisation factor) came up for the most discussions, with the queries mainly centered around how 'optimistic' this was. Linked to the high CUF was the issue of creating storage facilities, a factor understood by all, but not in the context of the pricing pressure every developer faces in India. SECI did provide a counter in the form of the extended 35 years PPA, or the ease of land acquisition for the project, but it was clear most developers in the room had serious misgivings about a project of this size and criteria making the cut at prices in the range of Rs 3 and below per unit with such a high CUF.
On the transmission front, questions ranged from a request to take it out of scope to allowing sharing of infrastructure to finally, anything at all to make it more doable for developers. SECI's answer was no, explore it, and think innovatively, in that order.
Some developers even made a request to involve banks by way of a familiarisation session for the project at an early stage, so that they would have a better understanding of key aspects. Considering how important finance is going to be for the project, with an envisaged size of between $2-3 billion for each 2500 MW parcel, SECI was open to it. As it was to the idea of sharing all the data and reports it has that gave it the courage to demand such high specs for the project.
As we had mentioned earlier, it is clear that SECI is focused on getting the most out of the transmission infrastructure, hence the push for storage too. Though, with storage only an 'optional' extra, developers will need to weigh the implications on cost seriously.
Finally, we saw the most obvious question, on the size of the parcel come up, with some developers wondering just how many in India make the cut. While some possible prospects with the financial backing (minimum net worth of Rs 1.2 cr per MW) asked all the right questions to confirm interest, others were clearly either present to check out response, or possible consortium partners, another option kept open for bidding. Someone even suggested taking year ending March 2019 for the purpose of net worth calculations, though with no final accounts possible by April end for most firms, the answer was left in the air.
Among PSU's NTPC and NHPC were both present, though one heard more about a possible NTPC-PGCIL (Power Grid Corp) tie-up for this project than anything else really.
So will this be the project where SB Energy, backed by parent Softbank will finally make its shock and awe billion dollar move? Or will the Adani's surprise too? If you are betting on a dark horse to upset all calculations, then you won't be alone, because with even the hitherto conservative SECI using words like innovation, brave and cooperation in the context of this tender, clearly, this one is going to be one interesting story to follow. Keep tracking it here!
(in collaboration with Saur Energy)
(Visited 586 times, 1 visits today)