23 GW of Solar Projects Envisaged by the MNRE in Jammu & Kashmir
MNRE plans to set-up 23 GW of solar capacity in Jammu & Kashmir, and the first phase of the project will see the installation of 7500 MW of projects in Kargil and Leh district.
The Ministry of New and Renewable Energy (MNRE) has launched a plan for the implementation of what will be India's largest solar tender in terms of capacity. The ministry plans to add 23 GW of ultra mega solar projects in the Leh and Ladakh regions of Jammu & Kashmir. The Solar Energy Corporation of India (SECI) which will be the implementing agency of these projects, released the notification for the projects, today. Phase-I of the project comprises setting up of 2,500 MW Solar PV Capacity in Kargil Region and 5,000 MW to be set up in Leh district.
The grid-connected solar PV projects are planned to be set up in the Pang region in Leh and in the Zangla region in Kargil. Draw point for the 2,500 MW Project is tentatively planned to be located in New Wanpoh and for the 5000 MW capacity, it'll be located in Hisar.
The scope of work shall comprise setting up of the Solar PV Projects along with the implementation of the entire power evacuation infrastructure (substations along with transmission lines), till the draw point. A single tender shall be issued for selection of the Project Developer, who shall be responsible for the setting up of the Solar PV Project along with the power evacuation infrastructure. "The request for selection (RfS) document is likely to be issued by December 15, 2018," according to SECI.
Speaking at the CII's Government and Business Partnership Conclave in August, Power Minister, R.K. Singh had stated, "We have 35 GW of installation potential in Ladakh. We will come out with a single bid of 25 GW with storage and delivery at Una."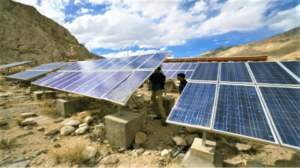 In July, SECI issued a tender for two 1.5 MW(AC) solar power projects at two locations in Ladakh, Jammu and Kashmir almost 6 months after the news broke that the state government had signed a MoU to develop two mega solar parks in the region worth a total capacity of 7500 MW. However, the deadline set for 23rd August has since been extended multiple times as SECI struggled to close out the tender.
On the face of it, this looks like a tall order indeed for the government, especially with the drop off in interest that has been witnessed recently. Of course, there is a possible front runner in the form of Softbank backed SB Energy, thanks to the parent firm's repeated interest in going for very large sized investments in Solar in India . With a single tender , it will take a developer with truly deep pockets to  step up, an area that Softbank specialises in.
Read More: Bid Extensions the new norm at SECI?
(Visited 360 times, 1 visits today)