Electric goes rugged, as Rivian Automotive Unveils All Electric Adventure Vehicle
Opening a niche segment in the electric vehicle space, Rivian Automotive launches the world's first electric adventure vehicle with some solid specs.
At the Los Angeles auto show this week, US Pick-up maker Rivian Automotive has unveiled its all-electric adventure vehicles with features comparable with conventional Trucks. Much like Tesla which remains the sole maker of electric sedans in the US, Rivian opened the trucks and SUV segment to the Electric Vehicle genre which sees more sales than luxury sedans in America. Trucks and SUVs now account for about 67 percent of the U.S. market according to 2017 sales figures.
The highly anticipated truck features a range of up to 400+ miles, a wading depth of 1 meter, and the performance and precise control of quad-motor AWD .
"We're launching Rivian with two vehicles that reimagine the pickup and SUV segments," said Rivian Founder and CEO RJ Scaringe. "I started Rivian to deliver products that the world didn't already have – to redefine expectations through the application of technology and innovation. Starting with a clean sheet, we have spent years developing the technology to deliver the ideal vehicle for active customers. This means having great driving dynamics on any surface on- or off-road, providing cargo solutions to easily store any type of gear, whether it's a surfboard or a fishing rod and, very importantly, being capable of driving long distances on a single charge. From the inside out, Rivian has developed its vehicles with adventurers at the core of every design and engineering decision. The R1T and R1S are the result of all this work and we are excited to finally introduce these products to the world."
The Rivian R1T will be one of the first of those electric vehicles to make it to the market which was unveiled yesterday. It's a 5-passenger pickup truck powered by an impressive all-electric powertrain.
Taking a cue from other companies making electric vehicles these days, Rivian adopted a "skateboard" platform, but then added its own twist on it and integrated 4 small (but powerful) electric motors which allow a 0-60 m/h sprint in three seconds and carry a payload of 800Kgs. Each motor has 147 kW power capacity at the wheel and the total power output can be configured to different levels from 300 kW to 562 kW ( via input to gearbox).
Another impressive feature is different power levels that match different choices of battery packs. Rivian trucks have the highest capacity of any other passenger electric vehicle out there ranging from 105 kWh, 135 kWh, and 180 kWh.
Others Specs: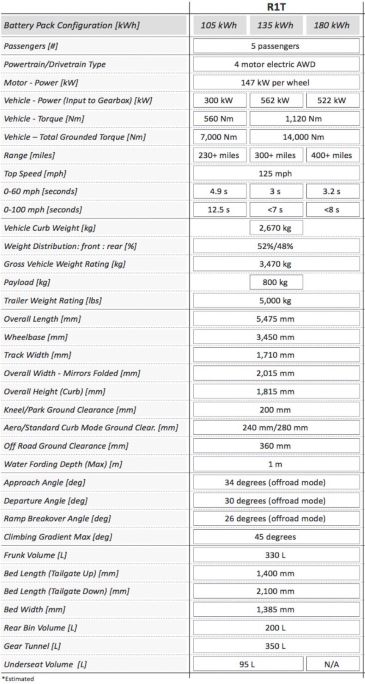 Picture Credit: Rivian Automotive
(Visited 887 times, 1 visits today)