"We want to drive investment into batteries," PM Modi Unveils new Mobility Roadmap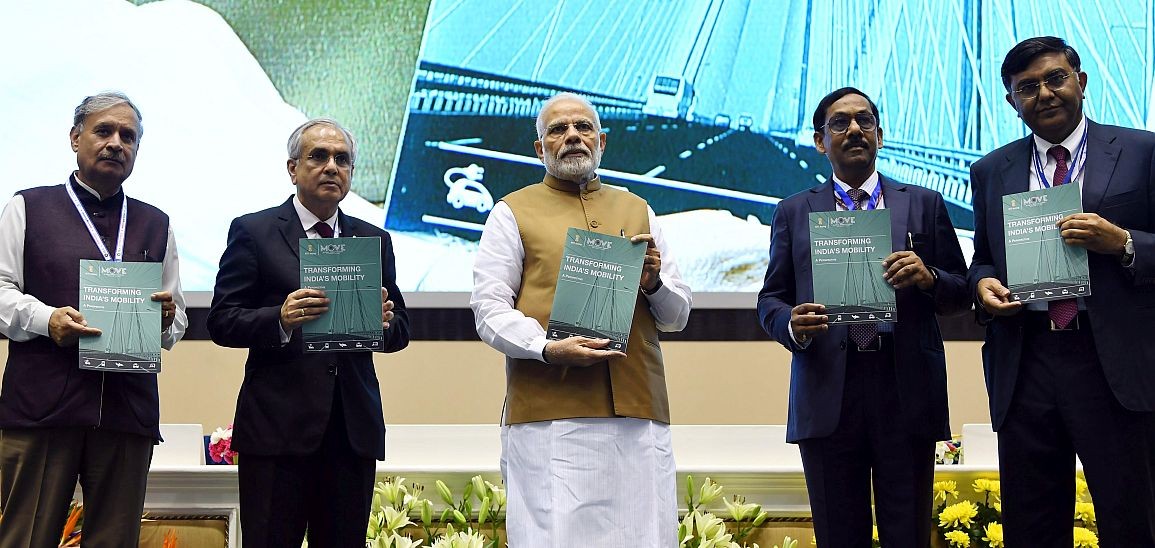 MOVE - Global Mobility Summit Inauguration
Unveiling the new mobility roadmap and confirming the government's plans to release a policy on electric vehicles and alternative fuel technologies, the Prime Minister invited industrialists to invest in electric vehicle manufacturing.
Prime Minister Narendra Modi on Friday announced that the centre will soon come out with a policy for electric vehicles and alternative fuel technologies, to promote e-mobility in India.
Speaking at an event, PM Modi said, "The world is now in the middle of a new mobility revolution and India has an inherent advantage to leverage this opportunity." The PM was speaking at the first Global Mobility Summit (MOVE) organised by Niti Aayog, an event focused to co-create a public interest framework to revolutionise India's transport sectors. It was held on the sidelines of topics such as reinventing public transport, alternative fuels, role of data analytics in goods transport and logistics, among others.
While addressing an audience of industry leaders from Toyota, Mahindra, Hero and Suzuki, the PM urged industrialists and global business leaders to create a new mobility ecosystem which is in sync with nature.
We have doubled our pace of construction of highways.

We have re-energized our rural road building programme.

We are promoting fuel efficient and cleaner fuel vehicles.

We have developed low-cost air connectivity in under-served regions: PM

— PMO India (@PMOIndia) September 7, 2018
Modi insisted that India can be the best place for the rapidly evolving technology, and that it was now ready to take another giant leap towards green mobility. Inviting the industry to invest in the manufacturing of electric vehicles and the required charging infrastructure he said, "Charge mobility is the way forward, we want to drive investment into batteries to smart cities to electric mobility." This was after all domestic and international automakers recently requested for a policy roadmap on electric vehicles in the country, so that planned investments can be insured.
Unveiling the new mobility roadmap, he referred to several research papers which will provide a roadmap on future of mobility in India, the Prime Minister emphasised on increasing the use of public transport and focusing beyond cars to fight climate-related menace. "Common Public Transport must be the cornerstone of our mobility initiatives. New business models driven by digitization, are reinventing the existing paradigm. Our focus must also go beyond cars, to other vehicles such as scooters and rickshaws,' he said.
"My vision for the future of mobility in India is based on 7 Cs: common, connected, convenient, congestion-free, charged, clean, cutting-edge," he added.
(Visited 52 times, 1 visits today)