Australia's Qantas Flies World's First Zero Waste Flight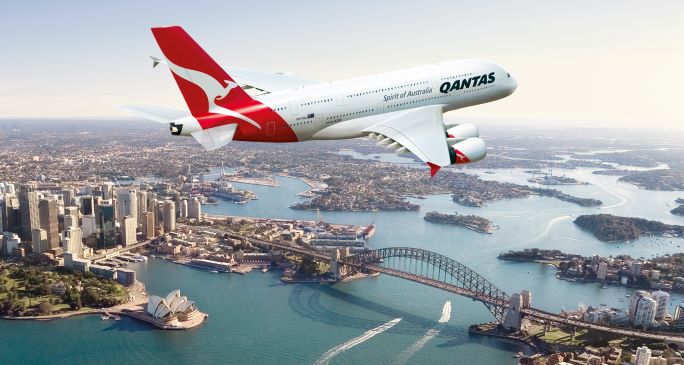 On Wednesday, the Australian airline flew the first-ever "zero waste" flight from Sydney to Adelaide Wednesday morning.
Australia's national airline Qantas flight  QF 739  just became the first flight with zero plastic waste at the end of the flight. the move comes at a time when transportation sectors like Aviation and Shipping are increasingly coming into focus for their contribution to carbon emissions, and the need to do more.
"In the process of carrying over 50 million people every year, Qantas and [Qantas' low-cost airline] Jetstar currently produce an amount of waste equivalent to 80 fully-laden Boeing 747 jumbo jets," Qantas Domestic CEO Andrew David said just before the flight. "This flight is about testing our products, refining the waste process and getting feedback from our customers."
All the waste emanating from the flight is set to be composted, reused or recycled, according to the airline. Wednesday's test follows the company's target to cut 100 million single-use plastics by 2021 and reduce the airline's waste by 75% by 2022.
Airline flights usually generate a significant amount of waste, mostly plastic waste used to distribute food and water in the flight, besides other contributors like the toilet.  In the case of Quantas, the typical cross-country flight from Sydney to Adelaide, which is a flying distance of about 722 miles and takes about two hours, would normally generate 34kg of waste per flight, and 150 tonnes annually.
On Wednesday's flight, about 1,000 single-use plastic items were substituted with sustainable alternatives, such as sugar cane containers or crop starch cutlery. And some were removed altogether, including "individually-packaged servings of milk and Vegemite," Qantas said in a statement.
Qantas and Jetstar plan to replace 45 million plastic cups, 30 million cutlery sets, 21 million coffee cups and four million headrest covers with sustainable alternatives. Food waste from international flights cannot be composted due to legal requirements, but Qantas said it will work with suppliers and government to reduce the volume of this waste.
Qantas officials also said the carbon emissions from Wednesday's zero-waste flight were offset 100% by offset credits. making it personal, from mid-2019, Qantas customers in the airline's loyalty program will earn 10 Qantas Points for every dollar spent offsetting their travel from Australia, company representatives said. It's an interesting move, considering the massive impact air travel can have on your individual carbon footprint, and issue fast gaining more awareness at least in the west.
Last year, Qantas operated the first biofuel flight between Australia and the U.S. using fuel made from mustard seed.
(Visited 708 times, 1 visits today)