MNRE Asks for Robots To Cut Water Usage at Solar Parks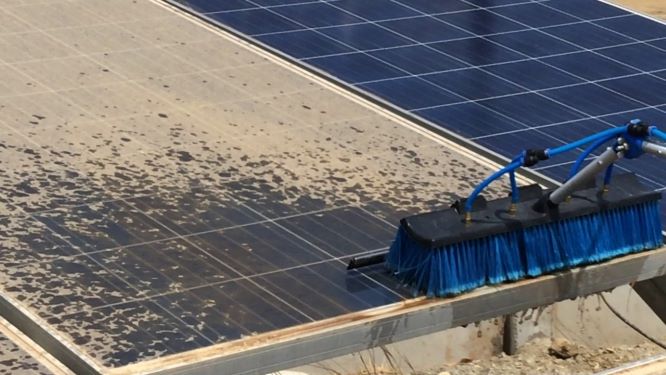 With nearly 94% of installed solar capacity in the country currently in water-stressed areas, MNRE's wish for smarter cleaning methods could do with support on the pricing of solar power too.
In an effort to reduce water usage in solar plants, the Ministry of New and Renewable Energy (MNRE) has asked the states and the solar industry to "preferably" use robotic cleaning and other new technologies for cleaning solar panels. the move is not unexpected, considering the increasing water stress in large parts of the country, with solar installations being made in some of the worst affected areas, thanks to the abundant sunshine that they get.
"The excess usage of water, sometimes leads to wastage of the precious resource and it can be avoided through judicious usage," the letter from the MNRE addressed to all state principal secretaries and solar associations said.
Water use requirements for solar power plants depend on the technology and climate conditions at the site. In general, all solar power technologies use a modest amount of water (about 75 liters per megawatt hour) for cleaning solar collection and reflective surfaces like mirrors, heliostats, and photovoltaic (PV) panels. But given storms and the presence of particulate matter, water consumption may increase. According to estimates water consumption levels in solar plants — roughly about 100 liter for 1,000 units of electricity — is 22 times lower than thermal power plants. However, water procurement is nonetheless a considerable operational burden as solar units are usually located in remote, arid regions with acute water shortage.  This may put additional water pressure in the top five states which account for 70% of total installed solar capacity.
For plants which use surface water, the annual cleaning cost can go as high as Rs 1 lakh for every MW of installed capacity. But as solar developers who already have compromised on their margins by quoting low tariffs to bag projects, the rising costs of water further hurts the profitability of several projects.
Due to failing monsoons and dipping groundwater levels, solar developers in Rajasthan have seen water costs almost doubling in 3-4 years. In Karnataka, the tariff for industrial water usage was hiked 100 times in 2018. Significantly, cleaning costs can comprise 25-35% of the operational and maintenance costs of a plant.
According to a study by renewable energy research firm Bridge to India, about 60% of the water used for solar panels is procured through bore-wells.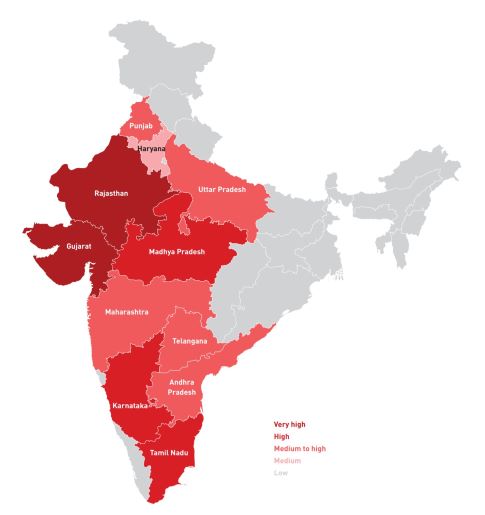 The study recorded 'very high' water consumption at plants in Rajasthan, UP, Gujarat, Punjab and Haryana, where a quarter of India's installed capacity is located. Tamil Nadu, Karnataka and MP, with 38% of solar plants, have 'high' water consumption levels.
Robotic cleaning is currently being offered by Israel-based firm Ecoppia, at two of India's largest solar plants in Bhadla Solar Park, Rajasthan and Rewa Solar Park, Madhya Pradesh. Cloud-based and water-free, the automated robotic systems remove dust from solar panels on a daily basis using advanced machine learning and IOT capabilities.
An industry expert from one of the leading solar firm mentioned that, per module, manual cleaning with water is considerably cheaper than a robotic system that comes in at Rs 10 Lakhs-20 Lakhs (Ecoppia Systems). But, when considered over 100 MW or greater project that consist of millions of modules, the robotic cleaning systems become a much more feasible option and ensure much higher efficiency and thus, overall plant performance.
The robotic option for cleaning, much like more efficient plants or even more longer lasting setups, will eventually be a function of the pricing flexibility the ministry can stomach. The relentless push to drive down prices has already made India one of the lowest cost producers of solar power for now, although many experts have serious misgivings about both the quality and longevity of some of the installations done at lower cost.
Already,we can see how India is one of the large remaining markets for polycrystalline cells,widely considered an  inferior option to monocrystalline cells.
(Visited 532 times, 1 visits today)