Chinese PVC major sets up manufacturing unit in Sri City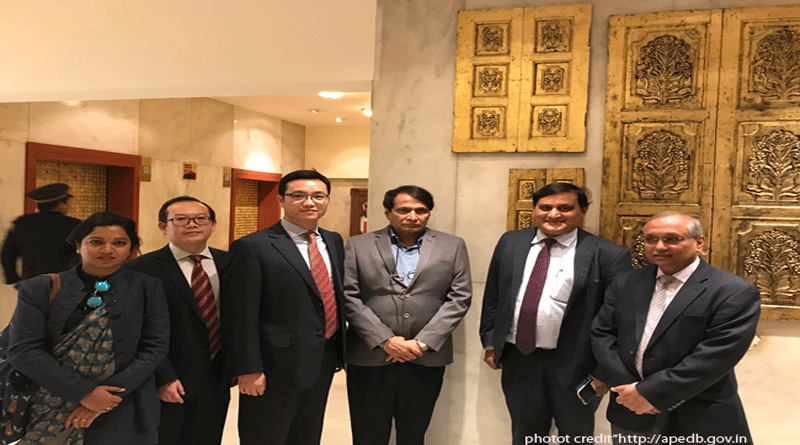 While the issue pertaining to the reliance on imported Chinese solar panels and modules continues to be intensely debated in the country,  the Indian subsidiary of Chinese photovoltaic cell major China Electronics Technology Group Corporation (CETC) has gone a step ahead and set up its own manufacturing unit at Sri City in Andhra Pradesh. The plant was inaugurated late last week.
CETC India's plant will be developed in a phased manner and at the end of the first phase (in less than two years from now), it will have a production capacity of 200 MW. "We look forward to work hand-in-hand with Sri City and the AP government. The plant, which is being built on a plot of 18 acres in the Domestic Tariff Zone (DTZ) at an initial investment of around Rs 320 crore, will be commissioned by the last quarter of 2019. The first phase will have a capacity be of 200 MW," Liu Liehong, CEO, CETC said on the occasion. J Krishna Kishore, Chief Executive Officer, Andhra Pradesh Economic Development Board (APEDB), who was also present at the inauguration assured all support to the unit saying it aligns with the state government's plan to develop integrated electronics facility in the state as well as give a boost to its own renewable ambition. "Solar industry continues to see strong growth in India, especially with the recently concluded the International Solar Alliance (ISA) meeting. CETC is establishing this facility in Andhra Pradesh to be close to its customers in this growing, leading-edge market," said he.
With India relying on Chinese panels and modules for 90 percent of its needs ( the global average is 70 percent) for the execution of solar projects, a section of domestic manufacturers have been knocking at the government's doors demanding fiscal restrictions against the Chinese imports. Fearing harsh measures, some Chinese solar panel majors have been indicating plans of setting up their own manufacturing base in the country to silence their critics. As per market buzz, apart from CETC, China's LONGi too is expected to announce setting up a solar equipment manufacturing unit (in Andhra Pradesh) where the stakes would be much higher – over $300 million. The government will be hoping that the experience comes close to mirroring that in the mobile handset space, where a lot of action in the low to mid-range segment has shifted to India manufacturing.
 
(Visited 208 times, 1 visits today)