Korean Solar Industry Challenges "green" credentials of Biomass Energy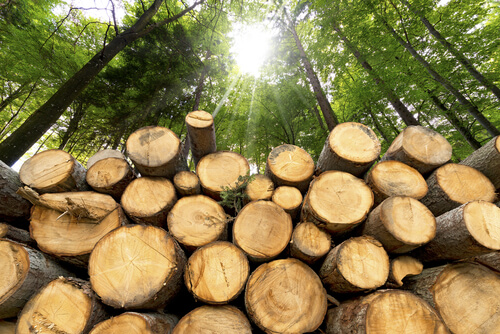 Difference of definition over Biomass
The challenge targets the sustainability of wood pellets being sourced from North America, especially British Columbia in Canada.
Solar developers in South Korea are filing a potentially game-changing lawsuit against their national government today (midday Korea Standard Time, 28 September), citing unconstitutional renewable energy subsidies to wood burning that have worsened air pollution, accelerated climate change, and stunted the growth of the Korean solar energy sector. The case represents the first national-level lawsuit challenging the status of wood-burning as renewable energy. Interestingly, this is an issue we have also highlighted very recently.  Wodden pellets or chips from forests are a particularly contention issue, unlike India where the focus of use has been on agricultural waste, like rice husk, or crop stubble, as we saw in the NTPC news today
Joining as a plaintiff in the case is a Canadian citizen who represents ancient forests of British Columbia that are being harvested to make wood pellets burned elsewhere.  The suit represents the first time a non-Korean plaintiff has challenged the Korean government for failing in their climate duties and breaching human rights. Other plaintiffs in the case include residents of Korea who live near plants burning biomass and who are affected by the resulting air pollution.
Plagued by higher air pollution, last year, South Korea passed emergency powers to combat the 'social disaster' of air pollution leading to the temporary closure of a quarter of its coal-fired power plants.  Joojin Kim, managing director of Seoul-based Solutions For Our Climate, the organization coordinating the case, said: "Data from the plant operators themselves show that biomass plants can emit even more air pollution per megawatt-hour than coal plants, yet the Korean government is increasingly dependent on bioenergy to meet our renewable energy goals, stunting the growth of vital zero-emissions technologies like solar power."
In addition to conventional air pollutants, burning biomass for electricity generation emits more carbon dioxide per megawatt-hour than burning coal, and multiple scientific studies have found that slow forest regrowth cannot come close to compensating for the excess greenhouse gases in time to meet emissions reduction targets. Bioenergy generation received nearly 40% of total renewable energy subsidies issued between 2014 and 2018 in Korea, the highest among renewable energy sources according to research by Solutions for Our Climate.
South Korea's biomass sector has been growing at a rate of over 150 per cent per year in the last seven years, becoming the world's 3rd largest importer of wood pellets in 2018, after the United Kingdom and Denmark. Pellets are mostly imported from Southeast Asia, but also Russia, the USA, and Canada. Korean utilities co-fire the pellets with coal in older power plants, allowing these plants to collect renewable energy subsidies.
The case represents a remarkable split in the renewable energy sector, with the solar industry taking action against biomass burning. Susanna Oh, executive director of the Korea Solar Co-op Association and one of the plaintiffs, said: "The promotion of wood burning as 'renewable energy' has contributed to falling incentives for genuine renewables, which is making it more difficult for us to develop solar power plants in South Korea. The current biomass subsidy scheme should be reformed to promote investments in solar power."
Surging demand for biomass is increasing forest harvesting across the globe. New contracts between pellet makers in British Columbia and Korean utilities indicate that pellet exports from that region are set to increase, even as recent evidence has emerged that the pellet industry is cutting old growth forests for pellet feedstock.  Michelle Connolly, who directs the British Columbia-based organization Conservation North, is the Canadian plaintiff in the case. She observed, "International demand for wood pellets is driving increased logging in British Columbia forests, including the last remnant patches of old-growth inland rainforest, a globally rare ecosystem. Logging forests that are such massive stores of carbon and harbours for biodiversity means goodbye to any hope of climate mitigation or nature preservation, because the wood pellet industry vacuums up everything in the ecosystem."
 Forest harvesting for fuel is extremely land-intensive. Sasha Stashwick of the Natural Resources Defense Council, which published a report on why bioenergy is not cost-effective compared to other renewables, said: "Whether wood pellets are made from rainforest trees in Vietnam or old-growth forests in the US and Canada, it's clear that pellet demand is contributing to forest degradation and exacerbating climate change. The billions spent on subsidizing biomass could support an enormous amount of clean solar with a far smaller land footprint than the false climate solution of biomass."
The Korean case is the second to challenge the green bona-fides of burning forests for fuel. In 2019 plaintiffs from five European countries and the United States filed a case at the European Court of Justice arguing the EU's dependence on forest biomass to meet renewable energy goals is damaging biodiversity and harming the climate. The court has still not determined if it will hear the case, but in the meantime the European Commission has announced it is considering revisiting the rules governing whether biomass qualifies as renewable energy in the EU.
Mary Booth, director of the US-based Partnership for Policy Integrity (PFPI), the organization that coordinated the EU lawsuit, was also involved in developing the case in Korea. She said, "The big lie that burning forests for fuel is carbon neutral has taken hold around the world, signalling capture of renewable energy policy-making by the industrial forestry complex. We hope the courts will recognize that because burning wood for energy threatens forests, air quality, and the climate, governments should not promote it as zero-carbon renewable energy."
Attorney Adam Eagle of The Lifescape Project, which is helping coordinate litigation with PFPI, said "This is the first example of a Canadian citizen taking legal action against a foreign government for breaching their fundamental human rights and failing in their duties to avoid disastrous climate change. The fact that a Canadian is being forced to sue South Korea, some 8,000 kilometres away, demonstrates the perverse results of providing subsidies for biomass energy."
The suit was funded by the Center for Climate Integrity, a project of the Institute for Governance and Sustainable Development.
(Visited 222 times, 1 visits today)