Govt Pledges to Restore 50 Lakh Acres of Degraded Land by 2030
India will chair the UN Convention to Combat Desertification (UNCCD) Conference of Parties (COP14) for next 2 years and plans to restore 50 lakh acres of degraded land by 2030.
At the curtain raiser of COP 14 in New Delhi, Union Environment Minister Prakash Javadekar said that the government will restore 50 lakh hectares of degraded land by 2030.
India is hosting the 14th Conference of Parties (COP14) to the UN Convention to Combat Desertification (UNCCD) from 2-13 September 2019 at Greater Noida.
"Desertification is a worldwide problem directly affecting 250 million people and a third of the earth's land surface. To fight this menace, India will convert degraded land of nearly 50 lakh hectares to fertile land in next 10 years; it will implement provisions of New Delhi Declaration which is to be adopted at the end of the conference and a Centre for Excellence will be established at Dehradun," the minister said at the event.
The State of India's Environment (SoE) 2019 Figures shows that the country has witnessed an increase in the level of desertification in 26 states out of 29 states (between 2003-05 and 2011-13).
More than 80 percent of the country's degraded land lies in just nine states–Rajasthan, Maharashtra, Gujarat, Jammu and Kashmir, Karnataka, Jharkhand, Odisha, Madhya Pradesh and Telangana. It should be noted that these states are also reeling under water scarcity from severe to other varied levels.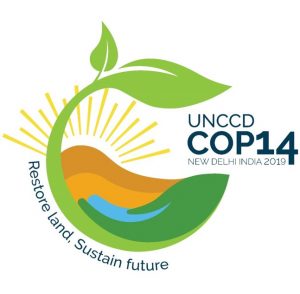 Twenty-one drought-prone districts, of the 78 in the country that was identified by the Indian Space Research Organisation, have more than half of their areas under desertification.
India is one of the signatories to United Nations Convention to Combat Desertification in Paris on June 17, 1994. While the country had committed to achieve land degradation neutrality by 2030, it witnessed an increase of 1.87 million hectares undergoing the process of desertification between 2003-05 and 2011-13, according to a report.
Elaborating further on India's key role as the President of UNCCD COP for the next 2 years, Javadekar said: "It is the common resolve of the World to combat desertification and India will lead from the front and move the world in a positive direction, taking into cognizance the support of other countries".
Delegates from 196 countries comprising of scientists and representatives of national and local governments, global business leaders, NGOs, gender-based organizations, youth groups, journalists, and community groups will present and share their expertise and give an overview to achieve their goals at the 12-day Conference.
(Visited 621 times, 1 visits today)