Want a Smart Water Purifier With No Upfront Cost: OCEO Has the Answer
OCEO wants to bring affordable drinking water to everyone with its IoT based smart water purifier with no upfront or maintenance costs.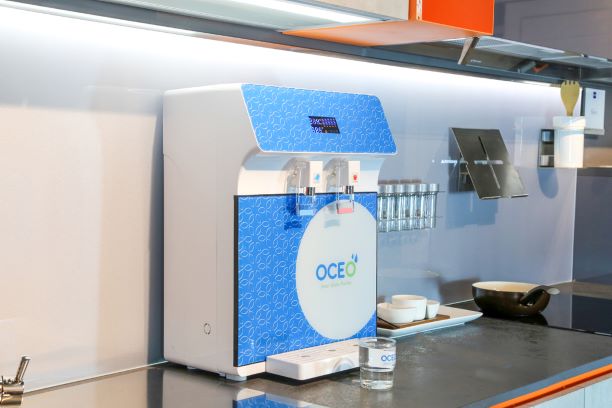 Vikram Gulecha is the mind behind the idea for an IoT-enabled water purifier which works on a pay-as-you-use (per litre) model. The consumer pays only for the amount of water purified by the device. In this conversation, Gulecha tells us about the idea, his plan, and more. Here are the edited excerpts from the interview.
Iamrenew: What inspired the founders of the company to create such a water purifier? Any specific inspiration or a plan that came together over a period of time?
Vikram Gulecha: What many of today's disruptive innovators have in common is their willingness and ability to leverage technology as the driver of change. Instead of using technology to just create new products, they have instead employed technology to address market inefficiencies, to rethink business models and reconsider the way things have always been done. It is the desire to deliver clean water that everyone deserves and the way nature intends to give. With our intervention, we have successfully demonstrated the near future revolution in an extremely crowded market place. OCEO stands out as a clear challenger to the existing water purifier industry and will disrupt the packaged drinking water market as well.
Iamrenew: How does your smart water purifier work? How is it 'smart' and how is it different?
Vikram Gulecha: With OCEO's smart sensor innovation, we not only measure and monitor the drinking water usage but also maintain safe drinking and hygiene water at all times. The real disruption has come through an intelligent blend of digital tools, internet-linked sensors, online algorithms, user-friendly analytics and live display on the devices.
OCEO purifiers are always connected to the cloud servers. With OCEO SmartSense technology, we are able to leverage remote monitoring capabilities and gather data such as water flow, quality of water, device working condition on a real-time basis. Our integrated real-time monitoring platform allows us to perform predictive maintenance of the devices and make sure our users have clean, safe drinking water at all times.
Iamrenew: We noticed that the machine is called 'zero purchase cost' water purifier? How so?
Vikram Gulecha: OCEO is an IoT enabled pay-as-you-go water purification system and is installed at a user's location with no upfront cost or recurring maintenance expenses. We provide water purification as a service and hence OCEO users pay only for the amount of water purified (Pay per litre) by the device. We have been successful in bringing down the drinking water costs down for our users.
Iamrenew: What kind of consumers can install the smart purifier and how does it fare against well-known names like Kent, Aquaguard or Tata.
Vikram Gulecha: OCEO purifiers are most suited for households, offices, service apartments, hostels, and shared accommodations. With OCEO, now everyone can measure, monitor and maintain drinking water needs in an intelligent, sustainable and cost-effective way. OCEO is spearheading the near future of the water purification industry with its triple play of IoT + Pay per Use + DIY Maintenance.
Iamrenew: What is the business model of OCEO? 
Vikram Gulecha: We provide water purification as a service and hence OCEO users pay only for the amount of water purified (pay per litre) by machine. Users can conveniently buy water credits from their mobile phones by paying just one rupee for every litre of water consumed by them.
Iamrenew: What is the road ahead are there more products planned after the smart water purifier?
Vikram Gulecha: Our vision is to eliminate single-use filter membrane housing and plastic water bottles, and provide everyone access to the clean drinking water anywhere people work, rest, and play. Our impact goes beyond water access. We employ local people, generate monthly savings of up to 80 percent, reduce co2 emissions, generate new opportunities and promote sustainable development. We currently operate in the city of Bangalore and have commenced field trials in Chennai and Hyderabad. We are also discussing potential partnerships in international markets – Bangladesh, Kenya, Gambia, Ethiopia, Vietnam, and Cambodia.
Iamrenew: The company says it is trying to reduce water wastage at the point of water collection. How big is the challenge to save water?
Vikram Gulecha: Public utilities are not investing fast enough to keep pace with the depreciation of their existing assets or the rapid rate of urbanization. This pushes up the costs for both the rich and the poor. The rich pay more to insulate themselves from the failure of public services by buying packaged water, installing a home water treatment and storage systems and ordering tanker deliveries. Spending on these private domestic solutions is growing at an average of 9.1 percent per year compared to 5.1 percent for total spending by utilities outside the advanced economies. The poor pay more for failing services in the time they spend managing inadequate access arrangements and the impact of water-borne diseases have on their health. It makes it more difficult for them to accumulate the capital they need to invest in improving their private domestic sanitation facilities. We must reverse this cycle of decline before it is too late.
There is a real risk that if the public water model does not improve its competitive offering, expensive private solutions will become the norm. We are building an ecosystem for a mass socio-economic impact. Once OCEO purifiers spread across a city/town, we can provide real-time data of water quality to increase system efficiency in utility supply or initiate control measure for groundwater monitoring.
Iamrenew: What is the financial status of your venture?
Vikram Gulecha: The venture is bootstrapped by the co-founders and we have invested in market validation, research & development, prototyping, technology development and building strategic partnerships. We are currently raising funds to service existing pre-orders received on our web portal.
(Visited 1,201 times, 1 visits today)