UN Awards Sikkim for Becoming First 100% Organic State in the World
In yet another recognition since it went 100% organic, Sikkim now has a UN award too
Sikkim competed against 51 other nominees from 25 countries. The award, Future Policy Award 2018, is given to a state with the world's best laws and policies promoting agro-ecology. Brazil, Denmark and Quito in Ecuador shared the second spot.
"We are pleased to know that a Himalayan state of India has been awarded this year's Future Policies Award in agro-ecology. The leadership under Chief Minister Pawan Chamling has to be lauded. Farsightedness and a huge political will has been the underpinning of this policy. It's even more important to understand the magnitude of the policy, in both its simplicity and wide-ranging implications for human development and climate change mitigation. It bolsters efforts to attain sustainable development goals. Sikkim and India need to be proud of this great moment," says the state government statement.
Sikkim Chief Minister Pawan Kumar Chamling received the UN Food and Agriculture Organisation's (FAO) Future Policy Gold Award at he UN Ceremony which was held in Rome, last week.
"Let us build an organic world together," he said while accepting the award from FAO's Deputy Director Maria Helena Semedo, who praised the state for setting an example.
"Sikkim is an outstanding example on how to successfully transform the food system and ensure respect for people and planet," Semeda said while presenting the award. She said that Sikkim's organic farming "has benefited over 66,000 family farmers, reaching beyond just organic production to include socioeconomic aspects such as consumption and market expansion, rural develoment and sustainable tourism with its comprehensive and inclusive approach". "My message is a chemical-free world. If we want to protect the planet we have to go for chemical-free farming," she added.
The policy that brought Sikkim the award focused on a total elimination of chemical fertilisers and pesticides, and helped achieve a total ban on the sale and use of chemical pesticides in the state. An initiative that is being pushed out in Andhra Pradesh too, as Zero Budget Natural farming.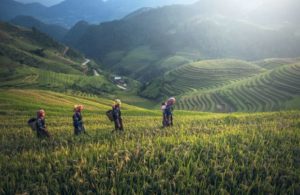 Sikkim has built this model in over 15 years, taking it all the way to a 100% organic agricultural model, based on the principles of agroecology and local circular economy, is not only possible but also gainful. Sikkim has also noted a 50 percent growth between 2014 and 2017 by just boosting its agro-ecology and in the tourism industry.
The agro-ecological model is able to give life to a virtuous cycle among farmers, environment, territory and community as well as the basis of joint commitment aimed at the global transition towards poison-free agriculture food and farming by 2050, according to an NGO Navdanya.
(Visited 790 times, 1 visits today)