NTPC Offers Startup Challenge In Clean Energy, Sustainability Domains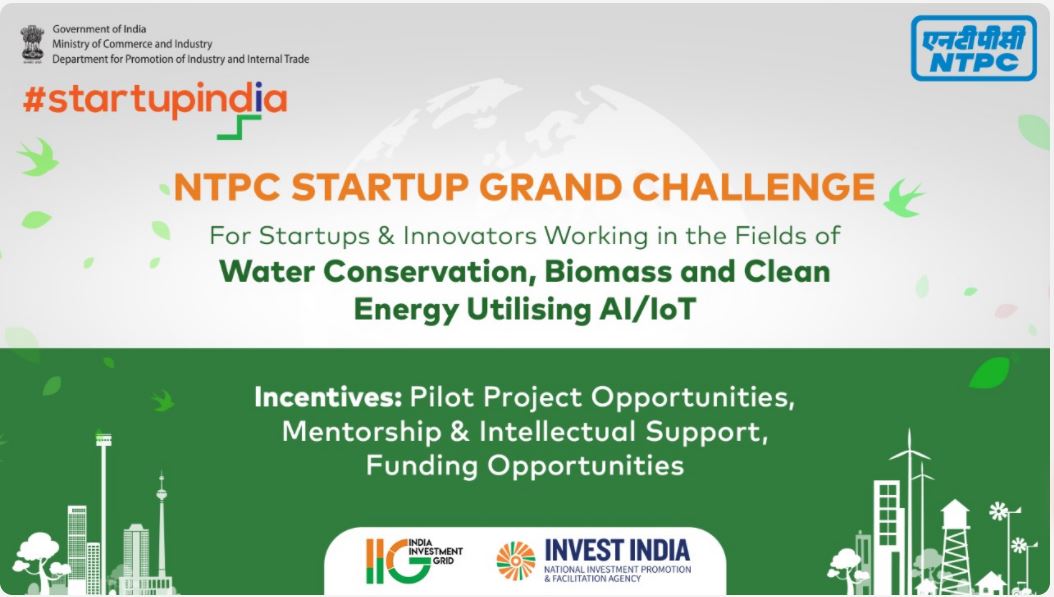 NTPC Grand Startup Challenge
The Power Major has stepped up as a sponsor for a startup grand challenge under the Startup India initiative
For the almost $14 billion dollar NTPC, India's pre-eminent power generator, it's a chance to catch some startups early, and do its bit for supporting the right causes. the 'NTPC Startup Grand Challenge" is open to startups and innovators working in the field of water conservation, biomass, and clean energy utilising AI/IoT technologies.
Winning startups can look forward to mentorship opportunities, Piot project opportunities, and even funding support. While the application start date is December 17, the end date is Jan 17, with plans to announce final winners on Jan 31, 2022.
The whole initiative is in partnership with Startup India and the India Investment Grid. Firms across sectors, be it from the public or private sectors, have been utilising the platform of Startup India to run these challenges to solve problems or identify promising startups for support. Needless to say, the startups have to be based and registered in India.
Three problems statements have been provided as under, to attract the right kind of startups. Problem statement 3  is where early stage startups can also participate, while statements 1 and 2 will need somewhat established  or late stage  firms to throw their hats into the ring.
1 – Innovative ideas on water conservation in Cooling Tower for reducing water footprint
NTPC aims at reducing water footprints in the following areas:
1. Harvesting water from the evaporative cooling tower exhaust plume
a. Recycling water by employing innovative technologies (
b. Creating a value-added product/by-product in tandem with allied systems/technologies/Renewable Energy sources
2. Optimization of evaporation loss from cooling tower
2 – Innovative Solutions to Separate water and bottom ash inside the plant premise in techno commercial way
NTPC, with the help of the startups, aims to separate water and bottom ash inside the plant premise in a techno-commercial way.
(Quantity to be treated is approximately 1100 M3 bottom ash slurry within 1 hr for every 4 hrs time (twice in one shift of 8 hrs) and separated water should have TSS< 100 PPM)
3 – Creation of Digital Biomass Market
NTPC aims to develop a digital market platform with startups for Agro Residue, Biomass, or other related products for this emerging business opportunity. Any startup/ existing entrepreneur working in this field can develop a digital platform connecting all stakeholders solving issues of Supply Chain and logistics and creating an all winning situation for stakeholders.
All the three problems above are real issues that require innovative thinking and execution to make a real difference, and one hopes that NTPC does get a response that can enable it to take things forward.
(Visited 97 times, 1 visits today)